China Foundational Research
This report was drafted by former ACE intern Echo Sun. We'd like to thank Melissa Guzikowski for providing substantial edits to this report and seeing it through to publication. We'd also like to thank Brian Tse and Doris Lee for providing external feedback, and the following individuals for participating as interviewees: Steve Blake, Chunmei Hu, Ouyang Huiyu, Hui Jing, Ruo Jyun, Peter Li, Yu Li, Caroline Saunders, Zhang Si, Pei Zhang, Wanqing Zhou, and other advocates whose names cannot be published.
Introduction
Over 1.6 billion1 farmed land vertebrates were raised, distributed, and killed in China in 2016. China is the apparent global leader in fish farming by volume2 and is home to approximately 45.4%3 of the world's pig population. Per capita meat consumption in China has grown three-fold since 1990,4 driven by the expansion of the middle class, increase in disposable incomes, and urbanization,5 and it is projected to continue to grow.6 While some legal progress has been made,7 China still has no unified national law which protects farmed animal welfare.8 Given the trend in meat demand in China, it is important for effective animal advocacy work to take place in order to decelerate the growth. With this report, ACE aims to facilitate effective animal charities' expansion to China by sharing some insights about contextually appropriate strategies and messages.
This report outlines some of the key possibilities and challenges for effective farmed animal advocacy in China. To explore the current state of animal advocacy, we investigated social and mass media discourses, and have spoken with individuals affiliated with animal protection and dietary change advocacy organizations. Through our interviews, we gained a better understanding of how Chinese animal advocacy organizations construct messages and employ different strategies according to their understanding of Chinese society and of the Chinese political climate.
China's share of global live farmed animal numbers, compared to other major producers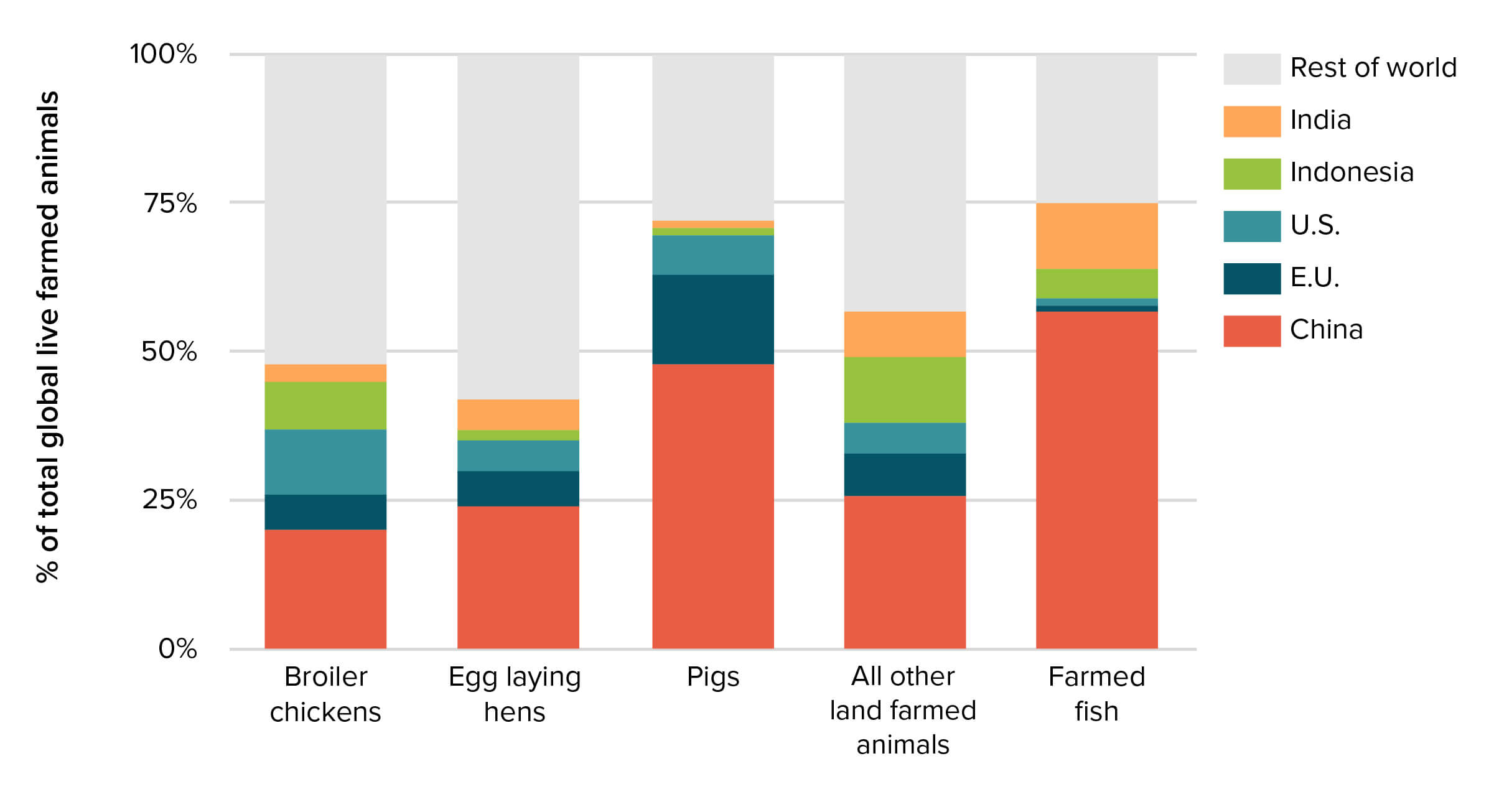 Challenges for Effective Animal Advocacy in China
Strict Governmental Regulation of NGOs
Because they operate under a government that monitors NGOs very closely, Chinese animal advocacy groups have to work closely with government agencies. To be physically present in mainland China, animal organizations are required to obtain an authorized status by finding one or several political institutions with which to affiliate. Steve Blake, director of WildAid in China, and Jill Robinson, founder of Animals Asia Foundation, both commented on a strict new NGO law10 enacted in 2017. The law requires foreign NGOs to find a professional supervisory unit (PSU) and report to the public security bureau (PSB) or the police. It subjects groups to greater government control and makes it difficult for international NGOs to continue working legally in China. Small organizations with financial restrictions and groups working on politically sensitive issues are especially at risk of losing their legal status. The law presents a practical challenge that has blocked many groups from entering and caused many to retreat. For larger organizations that are able to legally register and operate, the NGO law requires them to work with the government frequently by submitting financial paperwork to the PSB, reporting activities, and asking for permission before launching new campaigns.
The registration challenge is not unique to international NGOs. Local groups—which can still receive funding from international organizations—must be affiliated with a larger registered entity and are subject to government supervision. For example, the International Cooperation Committee of Animal Welfare (ICCAW), is under the China Association for the Promotion of International Agricultural Cooperation (CAPIAC),11 and the Good Food Academy is attached to the China Biodiversity Conservation and Green Development Foundation. Furthermore, gatherings, events, and other forms of offline activities cannot be held unless reported and approved by the Ministry of Civil Affairs.
The Chinese government regulates fundraising activities closely. Local nonprofit organizations must obtain certain credentials to raise money, or they are subject to charges of illegal fundraising. In our conversation12 with Steve Blake, he stated that WildAid is not legally allowed to fundraise in China, and that they are required to "report [their] account book to the Public Security Bureau to show the sources of [their] funding." Like many others, his organization receives most of its funding from foreign sources, including foundations and individual donors outside of China. Blake notes that while collaboration between local groups can be an effective way of legally raising funds in China, formal partnerships tend to become complicated when each group has a different legal status.
Limits to Farmed Animal Advocacy
There are few organizations and little resources dedicated exclusively to reducing farmed animal suffering in China. Most grassroots animal protection organizations tend to focus mainly on companion animal rescue and anti-dog meat campaigns.13 Likewise, international NGOs working to reduce animal suffering often advocate primarily for the protection of wildlife. As a result, the government has taken measures to protect shark populations14 and has pledged to end the ivory trade.15 Meanwhile, the plight of farmed animals has been largely neglected. For the small number of organizations who have chosen to advocate for farmed animal welfare and/or rights, there are several political and socio-economic factors that have slowed the growth of the movement.
Politically, China's strict regulation of NGOs is one of many ways in which its government limits possibilities for advocacy. Farmed animal advocates are aware that their campaigns must not appear to get in the way of social stability and economic development, two sensitive issues heavily regulated by the state. Pei Zhang, program manager at ICCAW, said that ICCAW takes a pragmatic approach by reaching out to large factory farms and persuading them to enroll in their welfare improvement program.16 According to Zhang, ICCAW frames farmed animal welfare in a moderate and neutral way, refraining from criticizing any institutions. Additionally, ICCAW gives companies an incentive to enroll by framing farmed animal welfare improvement as a way to reduce costs of treating diseases, improve safety and quality of meat products, and increase profit by distinguishing their brands.
Socially, China's long history of food insecurity—during which meat was a scarce resource—has caused some Chinese consumers to view meat as a status symbol. As disposable incomes rise and the middle class continues to grow, the association of meat with wealth could be an obstacle to dietary change advocacy. According to Ouyang Huiyu, president of the Tsinghua University Vegetarian Society and co-convener of the China University Vegetarian Association Network,17 "radical" speech against factory farming often draws attacks in social media fora, demonstrating the Chinese public's resistance to dietary change advocacy.18 Huiyu told us that after doing performance art in the school cafeteria to demonstrate factory farming's systematic oppression of animals, he was immediately targeted online as a hypocritical "baizuo" (literally "white left"), a derogatory term popular in Chinese social media to criticize liberal values as biased, elitist, and ignorant of social reality.19
For organizations aiming to expand their farmed animal advocacy efforts to China, it's important to note that the same strategies used in western countries—such as direct action and negative campaigns targeting companies—may be impractical in China. Some individual animal advocates and employees at animal advocacy organizations we have spoken to believe that ideas like "animal liberation," "animal rights," and opposition to industrial animal farming are altogether incongruous with Chinese political and socio-economic conditions.20 Thus far, Chinese advocacy organizations currently believe that they need to take the Chinese government's perspective on farmed animal-related social change into account, and know how to bypass politically sensitive messages. They need to adjust their claims and strategies to comply with the Chinese central government's view towards animal advocacy, which might restrict them to pragmatic messages and a smaller strategic repertoire.
Lack of Animal Protection Laws
According to researchers Peter J. Li and Gareth Davey (2013), regulations related to animal protection are scattered throughout different laws and policies. Aside from the Wildlife Protection Law, a law enacted in 1988 (Li and Davey 2013) to regulate sustainable use of wildlife resources (Li 2007), there is very little legislation which specifically aims to protect animals in place in China.
Animal advocacy organizations in China have not yet generated any legal outcomes, although some local animal charities are trying to address this legislative absence by submitting proposals to the government. Chunmei Hu, leader of a captive animal welfare campaign under the China Biodiversity Conservation and Green Development Foundation, told us21 about the process through which animal organizations are trying to forge legal reform:
Local, registered, relatively larger animal advocacy organizations collaborate with each other and [with] individual animal activists to write a proposal. They reach out to deputies in [the] National People's Congress who would like to sponsor and bring up the proposal. The deputy who endorses the proposal will then revise it and submit it to relevant government agencies. Finally, the branch of the government will respond with suggestions and responses.
Hu said that responses—especially positive ones—are rare. At present, none of the proposals submitted to the National People's Congress have generated reform. Peter Li, a U.S.-based scholar who specializes in animal advocacy in China, commented on why the Chinese government is reluctant to push for farmed animal welfare improvement through legal reform:
The price of pork has always been used as an indicator for livelihood of the people. Therefore the government won't take moves to enhance farmed animal welfare at the cost of social stability. The government officials know the welfare issues, but they don't want to put too much pressure on the producers. Higher welfare standards and tighter regulation mean shutting down many small companies and causing unemployment, which is already a big problem in the rural area[s].
Li also commented on the Chinese government's economic and social stability considerations, which explain why they are unwilling to carry out animal-related legal reform. He used the example of the illegal dog meat trade to illustrate this point:22
[A] dog meat trade ban was proposed last year, but we never heard back. [The] dog meat trade is clearly a problem, regarding theft, animal welfare, public health, and so on, and the government knows everything, and [could] eliminate the dog meat industry overnight with its power. Why does it not act?…people in the [illegal] dog meat industry are unemployed, uneducated, rural young people. They can create significant political instabilities. In this dog trading business, they are at least occupied by something, not legal, but not against the government either.
Because the Chinese government has to weigh the costs and benefits of enforcing animal welfare standards, consider different levels of economic development, and take complex social and economic factors into account, radical legal reform is hard to achieve in the short term.
Opportunities for Effective Animal Advocacy in China
Collaboration and Partnership with Legally Registered Groups
Although strict regulations and complicated NGO policies limit animal advocacy activities in China, organizations without the capacity to register can still contribute to reducing farmed animal suffering by collaborating with legally registered domestic groups. Caroline Saunders from Compassion in World Farming (CIWF), a U.K.-based farmed animal welfare organization, told us23 that CIWF partners with ICCAW to introduce CIWF's farm welfare awards to China. Brighter Green, a U.S.-based nonprofit focusing on farmed animals and sustainable food systems, has no presence in China under its own name, but collaborates informally with a local charity called the Good Food Foundation. Wanqing Zhou, who works at Brighter Green's New York office, said24 that the Good Food Foundation rarely mentions Brighter Green openly, even though Brighter Green provides most of the funding. She said that it is not necessary for foreign organizations to formally enter China in order to do work, and sometimes they should avoid doing so for strategic reasons.25
Improving Animal Welfare within Industrial Agriculture
While criticism of industrial animal agriculture is viewed as anathema to the aims of the Chinese government, Chinese farmed animal advocates can reduce suffering by improving animal welfare within factory farms. In 2017, the Ministry of Agriculture publicly acknowledged the concept of farmed animal welfare for the first time.26 The deputy minister attended the "World Conference on Farm Animal Welfare," organized by ICCAW and the CAPIAC, and gave a short speech on the significance of improving farmed animal welfare. The incremental approach of improving animal welfare within industrial animal agriculture became legitimate and viable.
Pei Zhang (the aforementioned program manager at ICCAW) said that several large animal agriculture companies have already been working on improving animal welfare, meeting CIWF's award standards, and even starting to formulate their own company welfare standards.27 Besides the companies, some local governments have also taken actions to improve farmed animal welfare. For example, the agriculture and livestock academy—an institution under the Inner Mongolia Academy of Agriculture and Animal Husbandry—is working on a project for sheep and cow welfare in partnership with ICCAW. According to Zhang:
Grazing is largely prohibited, to prevent soil erosion. We want to reduce tie-stall cattle raising, in which animals cannot even bend their knees. The academy of agricultural sciences works to improve their situation in pens. We give advice, and have taken on two research projects.
Additionally, ICCAW has submitted a sector standard to the agricultural ministry for approval. This set of welfare standards28 will become official recommendations by the Ministry of Agriculture if successfully passed. ICCAW is optimistic that these new standards will have a greater impact than the old association standards, even though they will be recommended and not mandatory. The state is also reportedly funding an aquatic animal welfare research project, demonstrating the government's openness to improving animal welfare.
State Attitudes Towards Meat Consumption
The new "Dietary Guidelines for Chinese Residents" published in 2016 recommend less eggs, meat, and poultry and more aquatic products, soybeans, and nuts, compared to the 2007 guideline (Wang et al 2016). The quantities of recommended animal product intake specified in the dietary guideline are as follows:
The consumption of fish, poultry, eggs, and meat should be in moderation. The appropriate weekly intake is set at 280–525g of fish, 280–525g of poultry, and 280–350g of eggs with an accumulated daily intake of 120–200g on average. Fish and poultry should be chosen preferentially. The yolk should not be discarded when consuming eggs, and less fat and fewer smoked and cured meat products should be eaten.29
This new recommended meat intake is about half of the current average meat consumption in China. This initiative is motivated by environmental and health concerns. The reduction is projected to reduce greenhouse gas emissions by one billion tons by 2030, and could lessen the country's problems with obesity and diabetes.30
The dietary guidelines cannot bring about behavioral change immediately, and there is a notable lack of any larger government initiative that would enforce them.31 Nonetheless, there may be reason for cautious optimism, given the fact that the guidelines signal the Chinese government's attitude toward the spike in meat consumption. The government's concern over public health issues and carbon emissions due to increasing meat demand have created a favorable political climate for environmental and animal advocacy groups to launch dietary change campaigns. NGOs are able to respond to this state initiative and collaborate with the Chinese government to help achieve its meat reduction goal. For example, WildAid has launched a "climate friendly" campaign called "Shu Shi: The New Picky Way."32 According to Steve Blake (the aforementioned chief representative of WildAid in China), the campaign was sponsored by the China Green Carbon Foundation under the State Forestry and Grassland Administration. "The 2016 'China Dietary Guidelines' set a goal to reduce over 50% of individual meat intake by 2020; I believe it's 28 kilograms per year. Our campaign helps the government to achieve that goal," said Blake.33
Non-Political Advocacy
Some animal or vegan advocacy groups intentionally avoid the political aspects of animal advocacy by promoting a healthy, plant-based lifestyle. Judging from vegan-related Chinese independent media, nonprofits, business owners, and bloggers, Chinese vegan advocates seem to believe that an identity-based, lifestyle-oriented message that deemphasizes the ethical and political aspects of veganism is promising in the Chinese social context. Zhang Si,34 who founded a popular vegan website called "VegPlanet" said: "VegPlanet is not an animal welfare organization. It is a for-profit lifestyle advocacy [medium]. We have our own online market, offline lifestyle classes, and special nutrition classes for bodybuilders and pregnant women." Yu Li, owner of a plant-based restaurant in Beijing, mentioned to us that he thinks the word vegan needs to be used less, if not abandoned: "A 'plant-based' diet is promising, not 'vegan' which is too ethically charged. Our goal is not converting anyone to veganism. Plant-based is a healthy lifestyle, not a label."35
Advocates also promote the health and lifestyle aspects of veganism to align with the state and corporations' goals. David Yeung, founder of Green Monday, a Hong Kong-based enterprise dedicated to reducing meat consumption, commented on the message they use when introducing the "Green Monday" project to corporations:
When talking to universities and companies like HSBC and Google, the animal welfare message is too subtle, whereas sustainability is a trendy concept around the globe. Every company wants to build that image, and to be a leader in that regard. Sustainability is a convenient stepping stone because it is based on a scientific framework and it is relevant to corporate social responsibility.
WildAid's reducetarian campaign "Shu Shi: The New Picky Way" does not present ethical arguments or mention vegetarianism at all. Instead, they use brightly-colored advertisements with popular movie stars in them, claiming eating more vegetables to be their "new way to be picky" and their "attitude to life."
It's important to note that lifestyle-based messaging may be harmful at times, especially when groups promote the consumption of white meat as an alternative to red meat. However, the aforementioned campaigns share the goal of reducing meat consumption overall, and we think that they can contribute to reducing animal suffering in Chinese animal agriculture.
Buddhist Animal Advocacy
Through our interviews with animal advocates, we have found evidence that many founders of Chinese animal advocacy organizations and individual advocates are Buddhists. It seems that many Chinese Buddhist communities are working toward promoting veganism, as well as animal release and rescue. For instance, vegan restaurant owner Yu Li told us that—according to his knowledge about the industry—over 90% of all vegan restaurants in China are run by Buddhists.36 Furthermore, "mercy release,"37 a practice of freeing animals from confinement and slaughtering, is gaining popularity among Chinese Buddhists (Li and Davey 2013). According to the four Buddhist animal advocates we have spoken with,38 release groups mainly buy fishes destined for consumption at farmers markets using donations and release them into ponds and the ocean. Some larger mercy release groups work closely with marine biologists to maximize survival rate. Hui Jing, an organizer of a mercy release community, told us: "We work with the Bureau of Fisheries' scientists. They tell us which species to release and in what season to do so. Thanks to the experts, the survival rate is as high as 90%." Jing also said that his team is compiling education materials to raise awareness about fish sentience and fish welfare.39
In speaking with the founder of Wuwei Sanctuary Park, the only registered sanctuary in China that saves farmed animals, we learned that religion-based resource mobilization and non-religious education can work together. The founder of Wuwei, Buddhist monk Miaowu, told us that the sanctuary is financially supported by Buddhists, although it is not openly religious. Monk Miaowu is aware of the importance of using a non-religious way of messaging in order to include volunteers and supporters of different backgrounds:40
We are kind of both religious and non-religious. I am a Buddhist myself and my animal protection concepts are based on Buddhism, but we do not preach Buddhism per se. My ultimate goal is not saving lots of animals, but actually education, letting more people know about farmed animal suffering, and the merits of veganism.
Religious animal advocacy groups can play a significant role in increasing awareness about fish welfare, promoting vegetarianism and veganism, and resource mobilization. Moreover, religion-based outreach makes animal advocacy movements in China more inclusive. All four of our Buddhist interviewees agree that members of Buddhist vegan and animal-saving communities are often those who live in non-urban areas, are less educated, are elderly, and are in other ways not the audiences of "mainstream" animal advocacy messages.
Conclusion
The scale and neglectedness of farmed animal suffering in China make it an important issue for effective animal advocates to focus on. This is difficult, however, given that governmental regulations and social stigma pose challenges for organizations aiming to slow the rapid growth of the animal product market. Nonetheless, we believe that groups who are mindful of the political and social context in which they're operating have several opportunities to make a great impact for a large number of animals. Changing attitudes towards meat consumption and animal welfare at both the state and consumer level present various opportunities for non-political advocacy, from health focused initiatives to partnerships with religious groups. This report does not aim to highlight every major challenge and opportunity for EAA in China. Instead, we hope that it will facilitate advocacy efforts in China by highlighting issues that are worthy of further research and interpretation.
Questions for Further Consideration
This post contains some basic information about the animal advocacy movement in China. In order to support effective animal advocacy in China, there are many more questions that should be explored. These questions include:41
What are the most promising animal advocacy organizations currently active in China?
How promising are our recommended charities' future plans to expand to China?
What are the most promising movement-building activities in the Chinese context?
What effects will China's new dietary guidelines have on the number of animals being raised for meat? Will the guidelines' recommendation to choose fish and poultry over other types of meat lead to a larger number of animals being consumed?
Will the emergence of local grassroots animal advocacy activities—especially those organized by groups that are not registered, regulated, nor reported as temporary activities (e.g., screening of graphic documentaries)—be in any way counterproductive to EAA by making the topic more sensitive and thus hampering the efforts of established organizations like CIWF or ICCAW?
What is the potential for plant-based and clean meat development in China?
What is the role of Hong Kong and Taiwan in building awareness in the Chinese-speaking world, cultivating pipelines of talents, or other potential effects?
References
Agriculture and Agri-Food Canada. (n.d.). "Per capita consumption of meat products in China from 2011 to 2020 (in kilograms)." In Statista—The Statistics Portal. Retrieved April 29, 2018, from https://www.statista.com/statistics/691439/china-meat-consumption/.
Gooch E., Roger H., and Jonathan L. "China Dairy Supply and Demand." United States Department of Agriculture. 2017.
Li, Peter J., and Gareth Davey. 2013. "Culture, reform politics, and future directions: A review of China's animal protection challenge." Society & Animals, 21(1): 34–53.
Schneider, Mindi. 2015. "Wasting the rural: Meat, manure, and the politics of agro-industrialization in contemporary China." Geoforum, 78: 89–97.
Sharma, S, and Zhang R. "China's dairy dilemma." Institute for Agriculture and Trade Policy: Washington, DC. 2014.
Steinfeld, Henning, Pierre Gerber, Tom Wassenaar, Vincent Castel, Mauricio Rosales and Cees de Haan. "Livestock's Long Shadow: Environmental issues and options." Food & Agriculture Organization of the United Nations. 2006.
Wang, S. S., Lay, S., Yu, H. N., & Shen, S. R. 2016. Dietary Guidelines for Chinese Residents (2016): comments and comparisons 中国居民膳食指南 (2016): 评价和比较. Journal of Zhejiang University-SCIENCE B, 17(9), 649–656.
---