Guest post by Adam Shriver
There have been many signs of progress in our society's treatment of animals in recent years. The NIH announced it would be ending almost all research with chimpanzees. Ringling decided this past year to end its circus after years of protests. And many companies have committed to welfare reforms after organized pressure campaigns. It certainly appears as though societal concern for animals is leading to dramatic changes. Those changes, however, have not yet translated to major legislative initiatives at the federal level. Since the election of Donald Trump, it has been particularly difficult for animal advocacy issues to compete for legislative attention at the federal level, given the backdrop of intense polarization around a number of other issues.
However, the national political conventions that occur every four years during Presidential elections offer a unique opportunity to influence individuals who have the power to improve animals' lives directly—this includes elected officials as well as other key decision makers, party officials, activists, and members of the media who are in town for the week's events. In keeping with the view that legislative progress will be a necessary component of any fully realized campaign to end unnecessary suffering for animals, these conventions present an opportunity to have a significant impact with relatively small expenditures of time and resources.
"[L]egislative progress will be a necessary component of any fully realized campaign to end unnecessary suffering for animals, [and] these conventions present an opportunity to have a significant impact with relatively small expenditures of time and resources."
Because I was living in Philadelphia prior to the 2016 Democratic National Convention, I realized that Philadelphia animal advocates had been presented with a unique opportunity to influence elected officials. In addition, it seemed like it would be a tremendous shame for a weeklong convention like this to pass with no events or activities related to animals. With this in mind, a small group of leaders of Penn Animal Advocacy (an animal-focused effective altruism group at the University of Pennsylvania) met to brainstorm ideas for the convention. We later held meetings with other animal advocates from Philadelphia. Given the short lead time and limited resources we had, I think the impact of our week's events was extremely encouraging. In what follows, I will briefly describe the events we organized during the 2016 DNC and will summarize some lessons we learned during that process. I hope that this information can be useful for groups or individuals who would be interested in planning ahead for the 2020 DNC and RNC conventions and beyond.
Standing Up for Animals At the DNC
Over the course of the week of the DNC, our events and activities were covered multiple times in the media including in the Philadelphia Daily News and at philly.com (competing against many other potential stories, such as mass protests and political speeches occurring every day). We handed out over 2,000 fliers about the relationship between eating meat and climate change, and over 200 "Liberty for All" buttons featuring animals with Philadelphia's iconic liberty bell to conference delegates. Finally, we held a panel on animal advocacy and the political process with seven state and city officials in attendance, including New Jersey gubernatorial candidate Raymond Lesniak.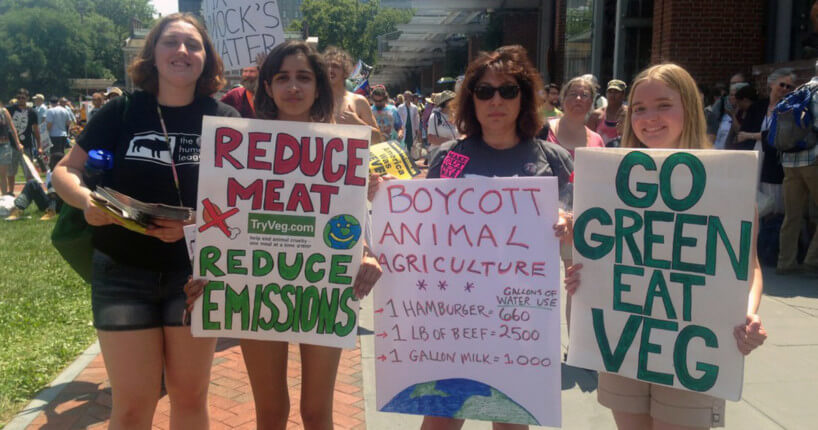 Regarding the fliers, we knew that several large scale environmental rallies and marches would be taking place during the week's events. As animal advocates know all too well, the role of animal agriculture in climate change and other forms of environmental destruction is often ignored or given minor attention by environmental organizations. With this in mind, Louis and Emile Leyes designed fliers highlighting the environmental consequences of intensive agriculture, and a team of 15 people passed them out at the main environmental rally. The message was extremely well-received by the environmental activists we spoke with, and quite a few people expressed gratitude that the issue was being brought up in this context. The Philadelphia Daily News also wrote a short blurb mentioning the material and the connection, and the columnist described our message as his "favorite."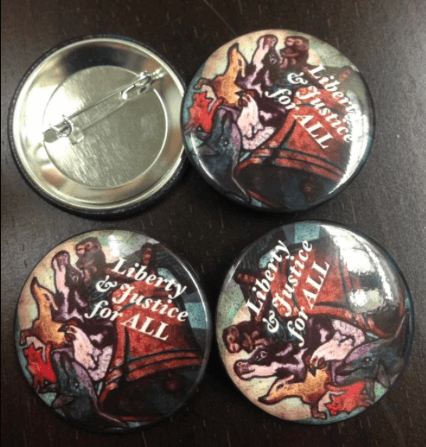 In addition to using fliers to reach some of the activists, we also wanted to reach the delegates who would be attending the conference and who are often influential members of state and local parties. From conversations with delegates at previous conferences—including the amazing Judy Ki—we learned that delegates often wear buttons at the conferences and keep these buttons as keepsakes and reminders of the events. We designed a special button unique to Philadelphia that highlighted concern for animals, and passed these out to delegates. We found that delegates were extremely happy to take the buttons, and it was unfortunate that we only had 200 to pass out—it was clear that many more delegates would have been willing to take them. One of the hopes of passing out buttons was that they would be seen during the intense coverage of the conventions by the major news networks, but since we did not have access to the main convention hall it was difficult for us to assess how visible the buttons were in that context.
Finally, the biggest organizational challenge of the week was putting together a panel on the political process and animals. We had started late on the planning process, holding our first meeting less than two months before the convention. For this reason, it was difficult to get a spot in federal officials' schedules, but I am fairly confident this would have been different if we had gotten an earlier start (many national advocacy groups start planning events almost a year in advance). Regardless, state legislators from Pennsylvania and New Jersey were excited to have an opportunity to attend an event related to the convention, and we were able to have an excellent panel, which was filled to its 120 person capacity and included discussion of a number of important animal issues. This event was a strong signal to these elected officials that the public cares deeply about animals, and it offered the public an opportunity to ask officials questions that they might not otherwise have taken a position on (e.g., whether they supported Meatless Mondays—which they all expressed support for when put on the spot).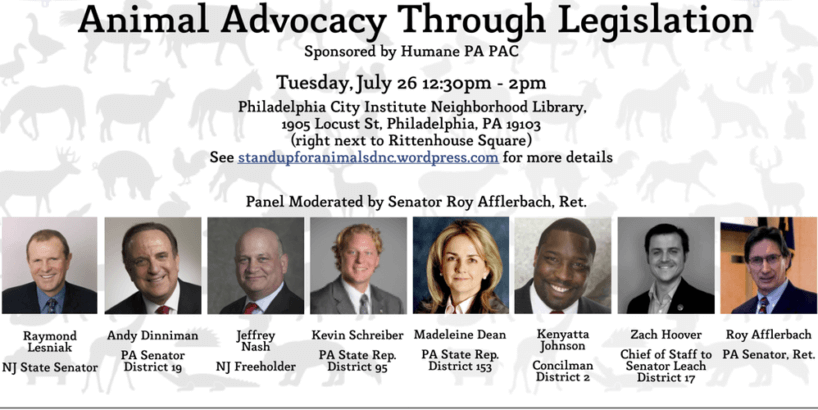 Moving Forward
The presence of animal advocates at political events and the media coverage that was achieved sent a message that animal welfare is an issue that politically involved people care about. With a little more planning time, and more financial resources, initiatives like this could have a far bigger impact at future political conventions. Here are some general thoughts on what went well and what did not:
Audience Targeting
Targeting environmental events for messaging about the relationship between animal agriculture and environmental problems (especially including climate change) seemed to work very well. Environmental activists were extremely receptive to the messaging, and it seemed like people in this crowd were more likely to be persuaded to reduce or eliminate meat and dairy consumption than the average person. In addition to hopefully persuading activists to reduce or eliminate animal product consumption, we had a couple of additional goals. First, we hoped that this would help establish vegetarianism or veganism as more of a "baseline" among environmental activists. There is no reason why environmental activists who make personal decisions to limit fossil fuel consumption should not also make similar decisions about their eating habits, yet many environmentalists continue to consume meat and dairy—so it would be extremely valuable to establish veganism as a norm among environmentalists (particularly younger, activist, environmentalists). The other hope is that widely sharing this information will help to put pressure on major environmental organizations to do a better job placing appropriate emphasis on animal agriculture as a significant contributor to environmental problems. Of course, beyond just passing out information about this connection, it would be ideal if in the future there are speaking slots at the rallies devoted to highlighting it. We did not have the planning time nor the movement connections to make that happen for this particular event, but hopefully it can be a central message at future climate rallies.
"[We] hope…to put pressure on major environmental organizations to do a better job placing appropriate emphasis on animal agriculture as a significant contributor to environmental problems."
Working With State Legislators
Early planning is required in order to get a spot in federal officials' schedules, as many groups compete for their attention this week. We knew that given our late start, doing this would be difficult. However, state officials are amazingly great targets for events. On the Democratic side, unions, pro-choice groups, and environmental groups plan major events and parties during this time and book prime local spaces well in advance (there were still spaces available at the university and at local libraries however). One very pleasant surprise is that state officials, who are instrumental in passing important legislation (our panel included discussions of shark finning bans, puppy mill legislation, outlawing pigeon shoots, protections for companion animals, and the intensive confinement of pigs), were extremely happy about being invited to animal events. In general, I think that while federal officials have more invites than they know what to do with during the conventions—and local officials who are part of the planning committee might also be similarly busy—many state legislators may not be automatically included in the week's events and could be looking for opportunities to be able to participate in the festivities. Even if you already have a panel with federal officials like senators and members of congress, I think it would be a good idea to additionally make use of this opportunity to attract state representatives and senators from the host state (and any nearby states) because they will be especially enthusiastic about being a part of the events.
Press Coverage
We received attention from the print media but not television during our events. I think the presence of federal officials could have helped to get more television news coverage of our events. Or, even better, if we had figured out a way to include cute, sociable animals like dogs (perhaps with a message about puppy mills), we likely would have had better luck with the TV news. The current blackout of animal welfare report information from the USDA will have a negative effect on state and local efforts to combat puppy mills, so if that decision is not reversed by 2020 this would provide ample opportunities for press events with rescue dogs and shelters, which would appeal strongly to the local media. As a general rule, it is helpful to send out press advisories to newsrooms at least a week in advance of events, and it is also wise to call and confirm that they received the advisories.
Influencing Party Platforms
One thing that could have long-term significance—but requires very early planning—would be organizing delegates to include language about animals in the party platforms. Delegates at the local level have an opportunity to vote on resolutions about the party platform. These resolutions are then passed on to the state party for voting, and if successful at that level they can be voted on at the DNC as part of the Democratic Party Platform. It would be extremely valuable for there to be language included in these party platforms that expresses a commitment to the humane treatment of animals. In order for this to work, however, there would need to be a national effort to ensure that animal advocates are voted in as delegates at the local level, and this would require a significant organizational effort. However, depending on where you live, becoming a state delegate may not be extremely difficult. For example, when I was in college, I was able to get to the state convention as an alternative delegate and thus would have had an opportunity to introduce resolutions and vote on the party platform. Moving from the state delegate level to the national delegate level is always competitive, however—so getting delegates to the national convention requires significant organizing. For the party platform, it would also be important to choose language that is likely to gain acceptance from a majority of attendees but also pushes the ball forward. Language such as "We believe that all animals should have lives free of abuse and suffering" sounds nonthreatening enough to gain widespread acceptance, but actually can have significant implications when considered fully. Longtime animal advocate Kim Stallwood has been thinking about ways of influencing party platforms at conventions for many years, and would be a valuable consultant on this topic.
Targeting Both Parties
Our experience was related to organizing for the Democratic National Convention, but this was because the DNC was held where we live, not based on an assumption that only Democrats are worth targeting on animal advocacy issues. Organizing something similar for the Republican convention would be quite different, but almost certainly worthwhile. There are many Republicans who are passionate about animal welfare, animal rescue, and strong anti-cruelty laws. Groups such as White Coat Waste or the Beagle Freedom Project seem to have strong connections with Republican lawmakers, and organizing events with them could provide an opportunity to attract conservative lawmakers and frame the messaging in a way that appeals to the crowds at the RNC.
Building for the Future
Political conventions shouldn't be seen as a one-off event, but rather as an opportunity to bring together a group of people who are interested in using the legislative process to improve the lives of animals. We benefitted a great deal from the state Humane Society's connections with local legislators, but we also pulled in a large group of animal advocates who had not previously been organized to try to tackle legislative approaches to animal advocacy. Like all good activism and organizing, putting something together for the DNC or RNC should be seen as an opportunity to build coalitions, build relationships with members of the media and elected officials, and to position the groups to be even more effective in their efforts going forward.