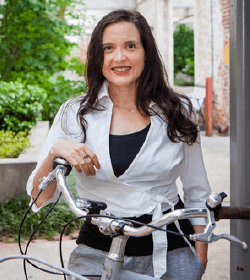 As part of our ACE: Interviews series, we had the opportunity to speak with Dr. Carrie Freeman about effective communication strategies for animal rights advocacy. Her most recent publication, Framing Farming, examines a fundamental question in the AR movement: should we construct farming campaign messages based more on utility or ideology? It also offers an analysis of campaign materials from five major AR organizations, including ACE's standout charities FARM and Vegan Outreach.
Below are a few highlights from our interview with Carrie.
Erika: Your recent publication Framing Farming offers a great analysis of communication strategies put into practice by animal rights organizations. Could you summarize the general idea expressed in the book?
Carrie Freeman: I wanted to know how much animal rights organizations actually reflect "animal rights" in their vegetarian campaigns. It relates to being able to frame non-speciesist messages in a speciesist culture. So that's the challenge; we are all trying to figure out how to end animal exploitation and many of us in the animal rights movement have an abolitionist view in our hearts and minds in terms of wanting to eliminate the use of animals, but that is not where everybody else is in society. Their views are more about animal welfare: "use animals, but do so nicely." It's a challenge for us to reach people.
I wanted to talk about animal rights in a way that reaches people and their values and identity. I am not so pragmatic that I want to reach people exactly wherever they are by just promoting behavioral change. I feel like just talking to someone about a person's cholesterol may make them eat less meat but won't necessarily encourage them to boycott a circus It's important for our message to get people to question whether using and killing animals is necessary or just. We need to address the problem not only in terms of human health. Our message needs to give the whole picture. Our vegan campaigns can be more holistic in addressing larger issues that animal advocacy challenges.
Erika: How is it that AR organizations can tailor a message that is both authentic to the movement and, at the same time, meaningful to those outside the movement?
Carrie: One difficulty we face is finding a way to make people feel accountable for the ways in which animals are used without putting them off entirely. Animal rights groups tend to frame messages in a way that places blame on animal agribusiness for the treatment of animals. But by doing this we are saying that if agribusiness would reform, we wouldn't have this problem. However, it's harder to say that the individual who is eating animal products is responsible. Each person contributing to the demand of animal products is giving money to support this cruelty.
Because of this, animal rights groups tend to approach the audience with a message that is meant to reveal something, to reveal that they are unaware of the cruelty of factory farming because agribusiness purposefully hides it from them. From this message we expect people to stop eating animals. Our message is "Look at this horrible factory farming. You don't want to contribute to this, do you?" What people outside the movement take away from that is that factory farming is awful, that they need to do things like switch to family farms or a more "natural" kind of farming. I think our message needs to de-naturalize the concept of farming itself.
I like the use of messages that are framed to reinforce the basic notion in human ethics that it's unethical to cause unnecessary harm. Any question of whether we need to harm animals puts our whole justice system/ethical system into question, which is what our society needs to do. We claim to be democratic and liberty loving and yet we have all these laws and practices that enslave other animals. It is very antithetical to what we say we are as a culture. We should provoke this discussion with our message. Our message may not change someone the first time they hear it, but instead, it changes the parameters of the debate away from questioning the treatment of farmed animals to questioning their very existence.
Erika: ACE is currently working on a social movements research project, in part to find opportunities within the animal rights movement. Did you come across any particular similarities or big takeaways in your research on social movements?
Carrie: I looked a lot at the abolitionist movement and women's rights movement. Abolition of slavery makes sense because [animal-agribusiness] is another type of slavery. But sometimes, what you learn from other movements is an overall strategic takeaway, no matter the movement. Actually, I have a quote here from my book (Framing Farming):
"If the animal rights organizations are to follow in the footsteps of now celebrated human rights leaders, they need to use messages that maintain ideological authenticity by unabashedly asking for rights for all animals based on a consistent and fair application of the principles of justice, freedom and life that resonate within American culture."
That was one of the lessons I took away from the different approaches in the early stages of the women's rights and abolitionist movements. I think the animal rights movement is currently in its early stages, and it's important to look at the comparisons in that way. The use of authentic messaging, the language of the justice system, and the cultural story is paramount. The abolitionist as well as civil rights movements did this very well. They weren't threatening the notion of America; they were just asking to extend these principles to them as well.
This is a very important consideration: how authentic can you be in asking for these changes without being so threatening to the fiber of society that they are scared of it.