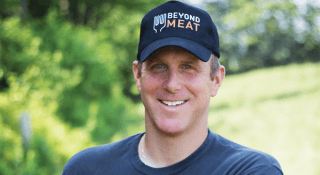 ACE recently interviewed Ethan Brown, CEO and co-founder of Beyond Meat. His company focuses on rebuilding meat from plant, and I found their strategy fascinating. Here are a few excerpts from the interview; you can view the full version here.
JB: What do you see as the most effective way to combat animal suffering and/or improve animal welfare?
EB: I think about it every day. For me, the answer is this innovation process that we're pursuing. One big way is education. My kids were not vegetarian until recently – they're 9 and 10 – about two years ago they made their own choice to become vegetarian, which made me very happy, and I hope someday they'll be vegan. My daughter is an incredibly kind person, but even she was on the fence, with her peers and everything, having pepperoni pizza and things like that, and so finally I said look, this is ridiculous, we have pigs, at the time we had six pet pigs, and it seemed crazy. I said that you guys love these pigs, but you're eating this stuff. But finally I showed her a short movie, I found one of the ones on the internet and explained that this is why I don't eat meat, and she was pretty young, and I caught some flak for showing it to her, but after that she called it the "murder movie" and never ate meat again. So education is really important too, but giving people a viable alternative [is important]. Building a business and telling people not to eat what they love is a stupid idea. Let's build a business around telling people to continue eating what they love, and that's really what we're doing by trying to provide beef and chicken that's made from plants in the most satisfying form that we can.
JB: Have you learned anything from the process of marketing Beyond Meat that you think is especially important for all animal activists to know? Or any other lessons or advice for that matter that you'd like to offer for people who work to improve animal welfare?
EB: My biggest thing is to just keep doing it. I'm convinced we'll look back at this time and not be very pleased with how we've behaved as humans. My approach is not adversarial, I think there is a place for adversarial behavior, I'm just not the one to do it, and all of our messaging tends to be very positive and focused on the positive benefits of our product, so I tend to think about it that way. But at some point you have to call a spade a spade, it's just a balance.
JB: So, there's a lot of talk about in-vitro meats in the media; in fact, I just saw a news story the other day about the price starting to become more manageable. People regularly contact ACE to ask us for our thoughts on in-vitro meat. Do you think that this in-vitro meat will play a significant role anytime soon, and how do you see the interplay between in-vitro meats and plant-based substitutes in the future?
EB: I really do hope that in-vitro meat is successful. I looked at it very heavily before starting Beyond Meat, and the reason I shied away from it was 1) because I didn't think it was necessary if you can do this directly from plants, and 2) I don't want something that had such a long time horizon on it. Technology has no regard for your ambition, it will mature when it wants to mature, and if you want to make an impact in a certain amount of time, you've got to be careful about what tools you bring with you. I felt that in-vitro meat still had a long way to go.