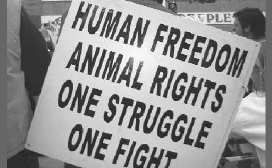 ACE has been working for several months on a project that will supplement our other research by compiling information from other social movements that is relevant to animal advocates. In the first phase of this social movements project, we'll gradually release case studies of several social movements, starting today with a case study of animal activism. Later, we'll analyze those case studies as a group to find patterns common to many movements, with the hope of using these patterns to inform our thinking about animal advocacy.
ACE believes that many of the most cost-effective ways to help animals work by changing human society so that non-human animals are seen as more important and more deserving of care and consideration. Because people affect so many animals over the course of their lives, if advocates can persuade them to treat those animals well, this should be much more efficient than directly rescuing and caring for individual animals. Actions that go beyond convincing specific people to treat animals well and implement society-wide changes could be even more efficient.
Challenges in interpretation
However, it is very difficult to observe changes in the ways that individuals or societies treat animals and to know what part animal advocates played in causing these changes. People, from consumers deciding to reduce their meat consumption to legislators voting on bills that ban animal cruelty, have many reasons for everything they do, and are often not aware of all the reasons for their actions. It is even more difficult in the case of changes that have not yet materialized; if a group hopes to end animal farming, how do we determine not just the chance that this will ever happen, but also the chance that they will be critically involved in the events that end animal farming? This example is extreme, but even smaller goals, like banning battery cages, can take years to accomplish, and success is often not assured.
To understand what tactics animal advocates can use successfully, ACE conducts intervention evaluations and other direct research. For example, we talk to animal advocates about what they do and what kinds of results they get, and we encourage studies that make advocates' knowledge of the results of their work more reliable. We've also conducted such studies ourselves. But this kind of work is limited to understanding results that have already happened. It's a good way to understand what affects the behavior of individual consumers, or even individual corporations, because these interventions tend to have fairly consistent results over time. However, directly examining past results of animal activism isn't a good way to understand what activists could do to restructure an economy that depends on animal farming or to cause any change that isn't incremental. If activists hope a course of action will eventually lead to a change that's very different from the initial results of the activity, predictions about the ultimate results need to rely on outside evidence, not only on what happens early in the campaign.
ACE's social movements project is designed to complement our other work on understanding which interventions are likely to be successful and cost-effective. We plan to investigate other social movements, both failed and successful, looking for lessons that will be relevant to animal advocacy. By widening our scope to a larger number of social movements, we see a larger number of broad, non-incremental changes that activists have attempted than if we looked only at the animal activist movement. Sometimes activists have succeeded in producing some or all of the change they wished to see in society, and sometimes they have failed. We hope that by considering many attempts to change society, we'll be able to identify some characteristics or tactics of successful movements that animal advocates will be able to adopt.
Planning our approach
Identifying salient factors from a wide variety of social movements is, of course, an expansive project. We plan to approach it gradually, releasing case studies of individual movements and how animal advocates can learn from them, one at a time. When we have accumulated a substantial number of case studies, we'll start looking for shared patterns. We'll be using the academic literature on social movements where we can, although our goals and viewpoint are different from those of most academics. We're focused on applying what we learn to the future of animal activism, not on developing theories that can explain all social change. And we realize that a full study of any movement is a larger task than we can accomplish by ourselves, so there will always be some things we don't understand in their entirety.
Our first release for this project is a case study on animal activism. We expect that many animal advocates will already be familiar with most of the material contained in it. We're starting with animal activism for two reasons: first, having a condensed summary of the animal activism movement is useful in understanding what features it shares with other movements we study, and second, considering a movement all our staff know relatively well helps us calibrate our expectations for further case studies.
We plan to release a new case study approximately every other month throughout 2015. Currently, this project is being conducted mainly by our Research Interns. If you'd like to get involved, and you have time to do an internship or to volunteer consistently, let us know. And tell us in the comments if there are any particular questions you're interested in or movements you think would be especially relevant to study.