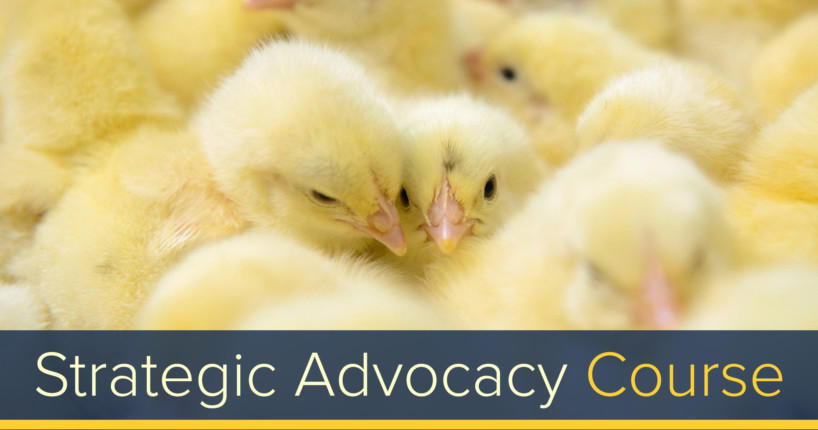 Strategic Advocacy: What It Is, Why It's Important, and How It Can Help Your Organization to Be More Effective for Animals
Guest post by Janice Cox
World Animal Net (WAN) believes that effective advocacy is essential to the achievement of lasting social change that advances the status and welfare of animals. For this reason, we designed our Strategic Advocacy Course. This course was developed with the specific aim of supporting animal protection advocates in developing their advocacy strategies, tactics and actions. The course and accompanying Advocacy Toolkit, a set of strategic planning tools, tips and more, are available online, free-of-charge, to animal advocates around the world.
The Strategic Advocacy Course was developed over the course of more than 20 years, and represents the combined experience of both the animal protection and international development movements. Originally used as the core of a one-month residential leadership course for international animal advocates in 2005, it was piloted as an online delivered course in Africa in 2012. There is more about the genesis of the course on the WAN website.
Why is Advocacy Important?
High-impact NGOs are effective at both advocacy and service delivery—supercharging their day-to-day work with proactive action to achieve wider, long-lasting change. There are strong reasons for this, which are why we believe that developing advocacy work to progress animal protection is vital:
Traditional practical rescue and emergency work alone is unlikely to produce enduring improvements in the lives of animals, because it often fails to address the root causes of animal suffering.
Advocacy is a key tool for addressing these root causes because it does not merely deal with the tragic end results of animal abuse and neglect, but instead ensures that underlying causes are addressed by increasing political will, changing public attitudes, and correcting systemic problems affecting animal welfare.
Advocacy is key to ensuring that the authorities take responsibility for animal issues through various channels, such as policy; legislation and enforcement; education and awareness; research and training; and practical programs to improve the lives of animals.
Why is the Strategic Advocacy Course Needed?
Without strategic and well-planned advocacy, creating effective change for animals will be impossible. Advocacy should be thought of as a strategy or process to bring about beneficial change in the policies and practice of influential institutions, groups and/or individuals.
WAN's Strategic Advocacy Course examines all aspects of advocacy work, beginning with an overview of social change, including the role of social change movements in driving change. The course then examines the planning process for advocacy, using effective strategic planning methods and tools, as well as various aspects of advocacy such as research and analysis; networking and alliances; campaigning; media and lobbying. The course concludes with guidance on monitoring and evaluation, which is needed to improve and perfect advocacy, and to feed back to supporters and funders. Each of the eight course modules comes with a presentation which is accessible from the module's introduction page.
Using the Course
Students can access our course materials online, work through at their own pace or select only the modules they find relevant to their immediate needs.
The course modules are in-depth in order to assist busy animal protection professionals who can make their own choices about the level of additional reading they pursue, from simple 'top tips', to full written modules, and—if really keen—further resources.
Animal protection organizations working through the course are welcome to contact WAN if they have any questions, need further advice, or would like management consultancy support with building a comprehensive advocacy strategy. Also, please do let us know if your organization is interested in a tutored course, and we will consider the feasibility of organizing this if there is sufficient demand.
We welcome any feedback and suggestions for improving the course for future animal protection advocates. We hope that you will find the course useful and accessible, and that it helps your organization to achieve change for animals as effectively as possible.