Understanding user behavior on a website is becoming increasingly important in order for an organization to increase their impact. This knowledge can play a key role in the revenue that a website brings in and the understanding that users can gain of an organization's mission and initiatives. In the rest of this post I outline three different ways that Animal Charity Evaluators engages in this practice. These techniques can be utilized by all advocacy groups.
Google Analytics
Google Analytics provides a variety of insights into visitor behavior including details on which pages receive the most traffic, how long the average visitor stays on a page, how many pages the average visitor looks at, and information regarding the age, gender and geographic location of visitors. It really is a treasure trove of data! Google Analytics also has helpful built-in tools that allow for A/B testing on websites, tracking visitor pathways before donating or volunteering, and analyzing visitors' search patterns when navigating our site. Best of all, standard accounts in Analytics are free! To start using Google Analytics set up an account by signing in and following the instructions. After that you'll need to insert web tracking code on the relevant website's pages.
User Testing
For around $100 dollars, you can have 2-3 users navigate a website and attempt to answer key questions and perform important tasks. For instance, Animal Charity Evaluators asked users to answer questions such as:
Having just looked at the page briefly, what do you think we do? What message comes across? Any initial impressions?
Figure out how we evaluate charities. Is this information clear to you? Too detailed or not detailed enough?
With most user testing services you should be able to access a video recording of the user's screen which also records their running commentary. Information like this greatly helps in evaluating how well an organization is delivering its message and provides important qualitative data about user behavior. Our most recent user testing session made us realize that we should add an easier donation pathway from our home page and that we should find a way to summarize key points on our major pages.
Heatmaps
Heatmaps give an excellent visual representation of user's actions on a website. Here's a recent heatmap for the Animal Charity Evaluators homepage: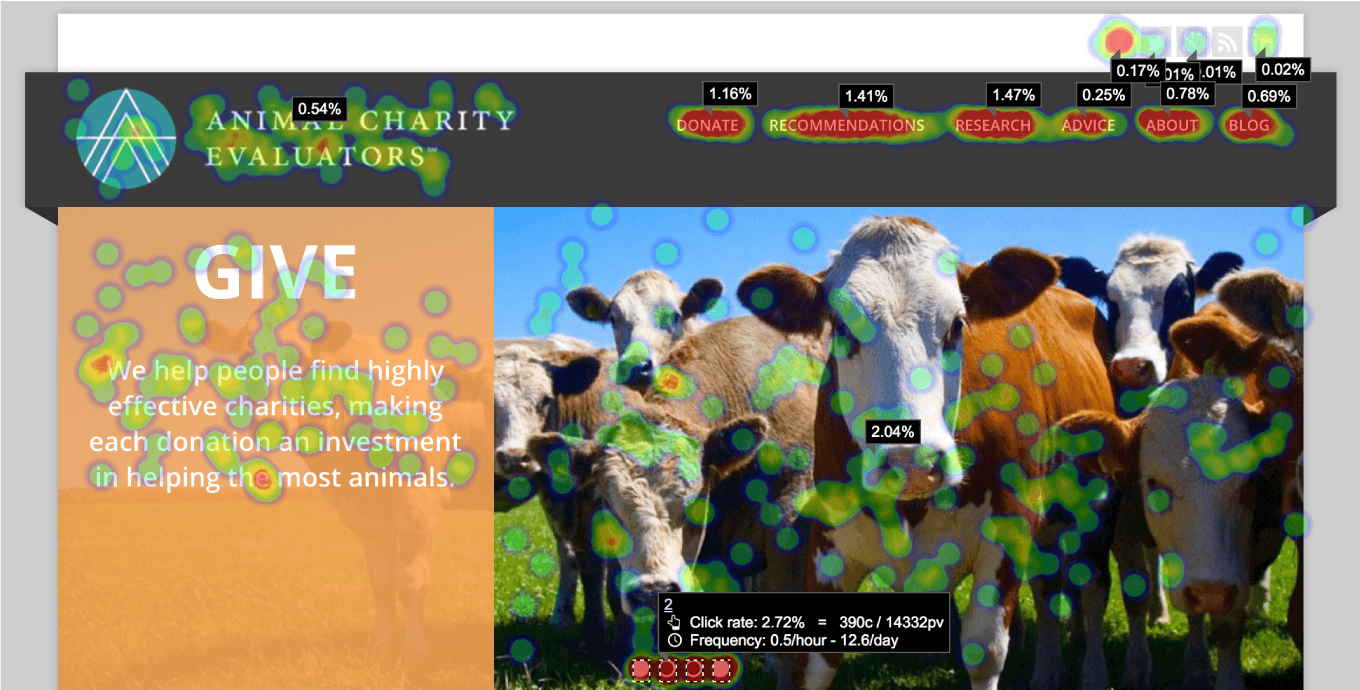 With this information we can get a much better idea of what the optimal page layout is and an understanding of the performance of different features of a page. There are a number of different ways to acquire heatmaps but the one we use at Animal Charity Evaluators is provided free of charge by heatmap.me.
These three simple tools help us better understand visitor behavior, potentially increasing revenue and certainly conveying key messages and ideas more effectively to website visitors. We recommend using these practices to all animal advocacy groups to help increase impact.