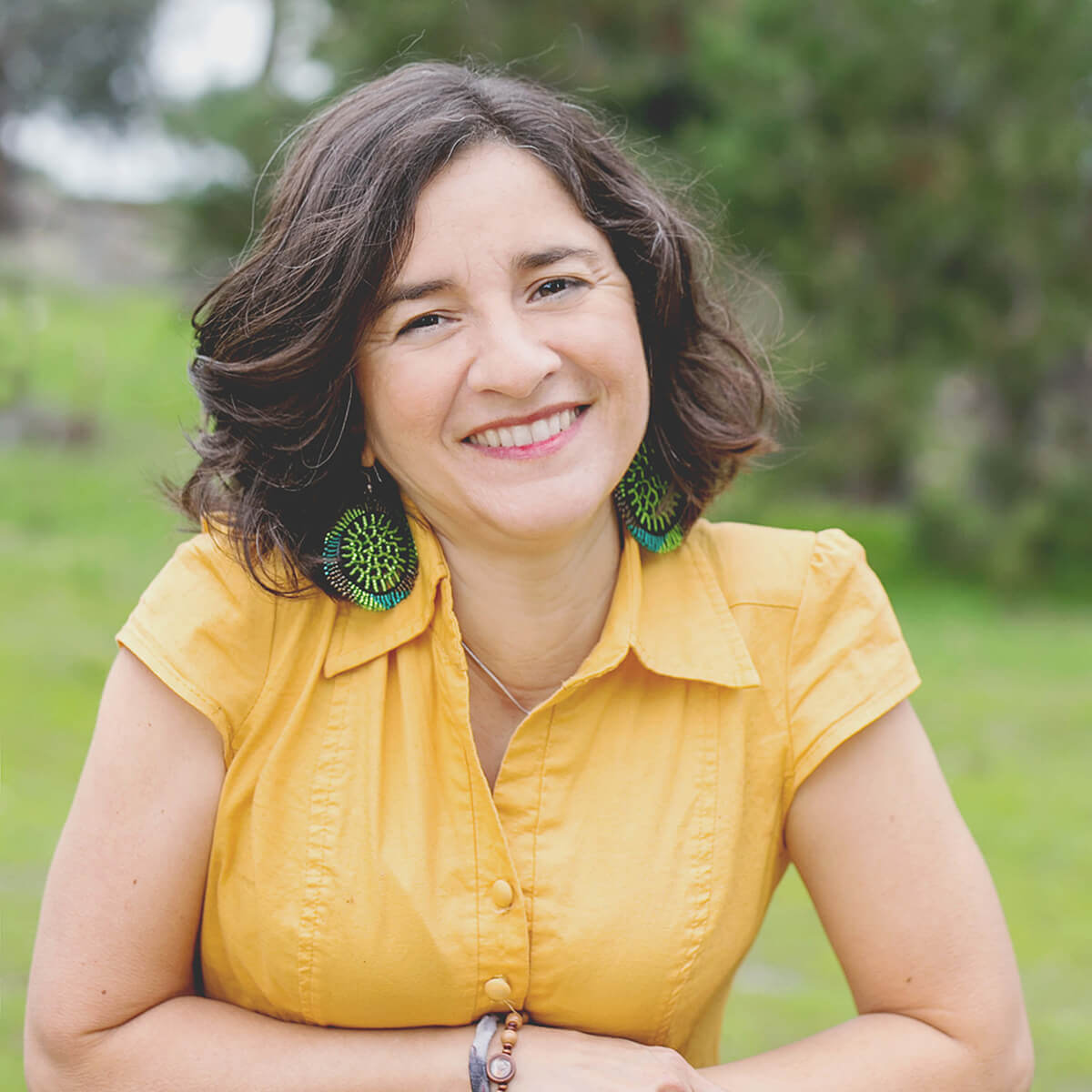 We recently had the pleasure of interviewing lauren1 Ornelas, founder and executive director of Food Empowerment Project. lauren has been active in the animal rights movement for more than 30 years. She is the former executive director of Viva!USA, a national nonprofit vegan advocacy organization at which she investigated factory farms and ran consumer campaigns. She also served as campaign director with the Silicon Valley Toxics Coalition for six years. We've featured a few highlights from the interview below. You can read the interview in its entirety here.
Tell us a bit about the work you do with the Food Empowerment Project.
Food Empowerment Project (F.E.P.) is a vegan food justice group that works to connect various issues of oppression and encourages people to "eat their ethics." We promote veganism in a variety of ways. All of our materials are available in both English and Spanish, on the Internet and in print. I speak about veganism for the animals in all of my talks, we have had monthly protests in front of a local chicken slaughterhouse, and we send a monthly newsletter that helps people go (and stay) vegan.
We also act in solidarity with farm workers by supporting their corporate campaigns and by pushing legislation that benefits them—we are currently working to change a regulation in California that negatively impacts the education of farm worker children. In addition, we coordinate a school supply drive for the children of farm workers.
We also advocate avoiding purchasing chocolate sourced from the worst forms of child labor, including slavery. We contact hundreds of companies each year to determine the country of origin of their cacao, and we maintain a list (updated monthly) and a free app that details which companies we do and do not recommend. Furthermore, we work on access to healthy foods in communities of color and low-income communities by using research and working with the community and local governments.
Some of the work F.E.P. does is about building community in order to gain increased access to healthy foods that we promote as vegan. The goal is to have long-lasting change. That is also the goal of our monthly Food Chain Newsletter—to recognize that not everyone will be able to stay vegan consistently, so we will be with them every month for a minimum of a year. Going vegan is a life-changing experience, and although some people have gone vegan after exposure to just one piece of information (or picture, or act, etc.) for many people it takes more than that.
As someone who is committed to a broad variety of food-related social justice issues, how do you decide which projects to take on and where to focus your efforts?
I have been an animal rights activist for thirty years now (and vegan for twenty-nine) and therefore some of these ideas come from seeing what has and has not worked—as well as seeing how our movement has tended to cater to very privileged people. I also have a desire to work on issues that can result in an immediate benefit, since so many other campaigns take a long time to result in changes.
All of these issues are connected. In order to create positive change in all of the areas we work on, and to move towards building the type of world we envision, those of us fighting for a more just and compassionate world need to be bigger and stronger. The only way we can create this change is to be consistent in our ethics and to be united. In addition to that, some of what we work on comes from listening, learning, and then determining which needs exist.
Why is it important for animal advocates to support and work for other food justice and social justice causes? Do you have any suggestions for animal advocates to ensure that their work complements other causes?
I think it is important for animal advocates to think more carefully about the words they use and to be more consistent in their own ethics by widening their circles of compassion to include human animals. The nonhuman animals definitely need people advocating for them—and they need those groups to be productive. Widening the circle can contribute to that productivity.
However, I think it does a disservice to everyone if vegan organizations to try to extend their work beyond animals without really making sure to fully understand other social justice issues. Because this is a very complicated area, many vegan organizations end up appropriating at best or offending at worst. What these organizations can do is acknowledge that it is not easy for everyone to go vegan, and they can be careful when using the words "compassionate" and "cruelty-free"—just because no animals were harmed doesn't mean there wasn't human suffering involved.
In general, we can do more to avoid offending other social justice advocates. This means not appropriating their slogans (i.e. "all lives matter"), not celebrating racist celebrities who embrace vegetarianism/veganism, not supporting the arrest or convictions of slaughterhouse workers or factory farm workers, etc. We should not use sexism to sell veganism or use historical forms of injustice and oppression that are rooted in trauma. Whether we're talking about human or nonhuman animals, the abuses in our food system are similar—living beings are treated as commodities for profit.
Can you tell me a bit more about F.E.P.'s corporate campaigns?
Much of my background is in corporate campaigns for farmed animals, so I have worked to implement campaigns into our work at F.E.P. Given that we only have three staff members (and a handful of volunteers), we only do one corporate campaign at a time.
Our first campaign was directed at corporate transparency in the chocolate industry. As we know from campaigns such as those targeting Nike and Apple, one of the first steps is to compel companies to be transparent about their suppliers. Since country of origin is an important factor in our campaign on chocolate, we need to push companies to be transparent about where their chocolate comes from. The first company targeted (and so far, the only one) was Clif Bar. It took us several years to get the company to be transparent about where their chocolate comes from. They now include the country of origin for their cacao on their website. Even though we do not recommend them, we are pleased that they are being transparent with their customers.
We currently have a campaign against Safeway. In doing our work on lack of access to healthy foods in Vallejo, CA, we found that Safeway moved one of their grocery stores from a low-income community of color to a suburban area farther away. When they left, they put a restrictive deed on their former property preventing another grocery store from moving in for fifteen years—effectively leaving that community without a grocery store. We found that they have also done this in other cities around the U.S. After communicating directly with one of their vice presidents for months, we decided to take this campaign public in October 2016.
Some people worry that corporate campaigns can contribute to greenwashing or "humane-washing" our current food system. Do you share that concern, and if so how do you attempt to avoid that issue in your own work?
This is a great question. I have seen this happen before. There was a large animal group that had a campaign against Safeway regarding how the farmed animals were being treated. During one of my talks at a local school, I discovered that everyone there felt that since the group had called off their campaign, it was okay to eat the animals who were sold there. I had to explain that was not the case for people who didn't want to harm animals. For this reason I do think groups need to be extra careful about how they word their campaigns and "victories." When Clif Bar disclosed country of origin for their cacao, we had to be extra clear that we still did not recommend them. I have done this during my talks, and we also have that information available on our website as well as on our apps.
I would like to add that we do not believe anyone can shop their way out of these issues, and that is why we encourage various ways for people to use their individual choices to make a difference—as well as their collective voices.
Can you tell me a bit about F.E.P.'s vegan outreach efforts?
Our vegan education efforts are a part of everything that we do as an organization. We have very detailed information on our website about veganism, listing how animals (fishes, chickens, sea life, pigs, goats, sheep, cows, etc.) behave in a normal habitat compared with when they are raised for food. This has helped people to go vegan—some even overnight! As I mentioned earlier, our Food Chain Newsletter was designed to help people not only go vegan, but stay vegan—since some people don't change overnight. In that case, it often takes more than a soundbite and more of a conversation in order to get them to understand that veganism is about how we treat all animals, not just the ones people eat. We also have a separate website with vegan recipes. Both of our websites are available in English and Spanish. We talk about veganism at every event where we table, and I speak about veganism in every talk I give. Many of these talks are to audiences who are not expecting to hear anything about nonhuman animals. We have done a monthly outreach in front of a chicken slaughterhouse and reminded people who love animals that chickens are indeed animals!
We are transparent about our vegan work in other areas. Organizations we work with on farm worker issues know we are a vegan organization and respect how we have connected the dots, as they are not used to vegans caring about farm worker justice. We were able to get a coalition we were working with to have all vegan food at a farm worker appreciation day we helped organize. The event was entirely in Spanish, and I was able to talk about various aspects of veganism.
In addition, our chocolate list is very popular and always gives us the opportunity to explain why our selections come from concern about the treatment of both human and nonhuman animals. We often get questions about why we do not list non-vegan chocolate, and this allows us to share information on how cows and goats are treated for milk.
Our work on access to healthy foods in communities of color and low-income communities has provided us with an incredible platform to talk about veganism. All of our community partners know from the beginning that we are a vegan organization—so that is a theme with the events we put on, the foods we choose to survey, and the questions we use in our focus groups. We have found that communities are eager to be able to eat healthfully, and we want to help them do that.
Our work focuses on relationship building, which most people might not be used to seeing. We participate in Hip Hop Green Dinners across the country, for instance, and my role at these events is strictly to talk about veganism and how animals are treated. We also address veganism in materials we hand out to communities.
Our work on veganism is different than what many people are used to, as most of those efforts have been organized by white vegan organizations, many of which look to utilitarianism (and, in some cases, numbers based on speculation) as a way to measure change without ever having solid evidence to back up their claims.
How does F.E.P. use research and data to inform its priorities and strategy? (We mean this broadly, in terms of geography, prioritizing issues, and choosing programs to address these issues.)
We find research and data to be imperative. I also think strategy is incredibly important in order to create long-lasting change. As someone who has been vegan for several decades, my ability to discern what is helpful to others may be biased. Therefore, when we decided to focus on helping people go vegan, we chose to collect data from individuals who wanted to go vegan. This helped us find out what spoke to them, so that we could move forward using that information. We created a survey for our Food Chain Newsletter to find out what did and did not help people.
We also use this method in our work on access to healthy foods in communities of color and low-income communities. We want to make sure the voices of the community are heard and the corresponding approaches are implemented. Others can come up with a solution to the problem being faced, but the community will understand the barriers and have ideas for the solutions that will actually work. We therefore ask the community members, in focus groups, to share their ideas and needs with us.
---