After months of hard work, strategic planning, and thoughtful consideration, we are thrilled to unveil our organization's rebrand!
ACE's evolution over the past decade since being founded has been remarkable. In that time, so much has evolved in the spaces we operate in, too. The animal advocacy movement has expanded and matured, the effective altruism community has evolved, and more research is being done into what animals need. As we considered these changes while developing a new strategic plan that reflected our updated theory of change and guiding principles, we further recognized the need for branding that better encapsulated who we are today and our aspirations for the future.
Our Mission, Vision, and Guiding Principles
Our Mission and Vision
Our mission is to find and promote the most effective ways to help animals. Ultimately, our vision is a world in which no individual is given less than full moral consideration on the basis of any morally irrelevant feature of their identity, including species membership.
Our Guiding Principles
In our collaboration with each other and with external stakeholders, we developed the following principles to guide us in the execution of our theory of change:
---
WE ARE ANTI-SPECIESIST.

We give all individuals who have the capacity for subjective experiences moral consideration.
---
WE SEEK EVIDENCE.

We follow a rigorous process and use logical reasoning and empirical evidence to make decisions. When we encounter new information, we update our thinking accordingly.
---
WE WELCOME DIVERSE PERSPECTIVES.

We include the ideas of people with varying experiences and expertise. We solicit input from others and listen openly, seeking to understand their point of view.
---
WE DO THE MOST GOOD WE CAN.

We prioritize actions with the greatest potential to help animals.
---
WE ARE TRANSPARENT.

We are open about our reasoning, decisions, and processes. We share information and hold ourselves accountable.
---
WE ARE COMPASSIONATE.

We treat people and nonhuman animals with kindness and empathy.
---
Our rebranding process was driven by our mission, vision, and guiding principles, as well as our desire to communicate our work better, expand our reach, and create meaningful change in our community. We are thrilled that the final result reflects our passion for progress and unwavering commitment to our mission.
Our New Logo and Visual Identity
Our Logo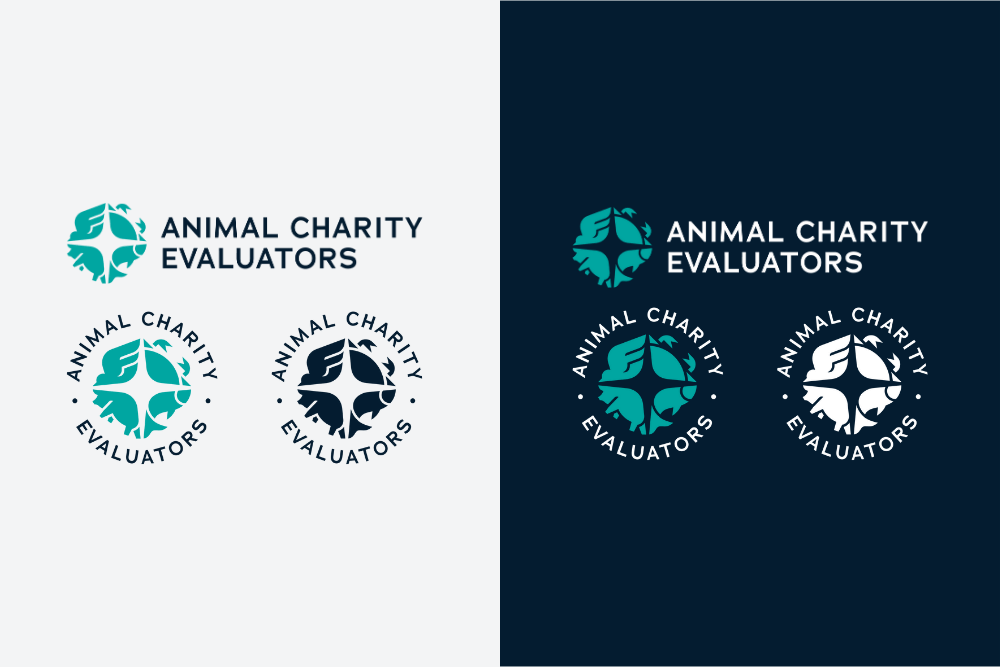 Animal Representation
Our new logo places animals at the forefront. The animals depicted—a bird, a crab, a pig, and a fish—represent a wide range of wild and farmed animal species. We consider this an essential change to communicate our mission, priority, and focus.
Lodestar
The negative space between the animals in our logo forms a star, representing the guidance that ACE and our recommendations provide. We are a trustworthy, reliable resource—a steadfast reference point.
Helping all animals
ACE helps all animals under the stars. The night sky being filled with stars symbolizes the large number of individual animals that could be saved or helped by our work.
Looking Up
The lodestar also represents a spark of hope. It's the light at the end of the tunnel as we look into the future.
Unified Mission and Inclusivity
The star is also global—it is unified and collective, as we're all working for the same mission for animals. Cross-culturally and ideologically, this star represents several things, such as guidance, knowledge, hope, freedom, and purpose, to name a few. As we continue collaborating with advocates from different backgrounds and social movements, the star's "purpose" and "hope" attributes help represent the value and necessity of building these relationships to develop a broad, pluralistic animal advocacy movement versus a narrow, monistic one.
Our Color Palette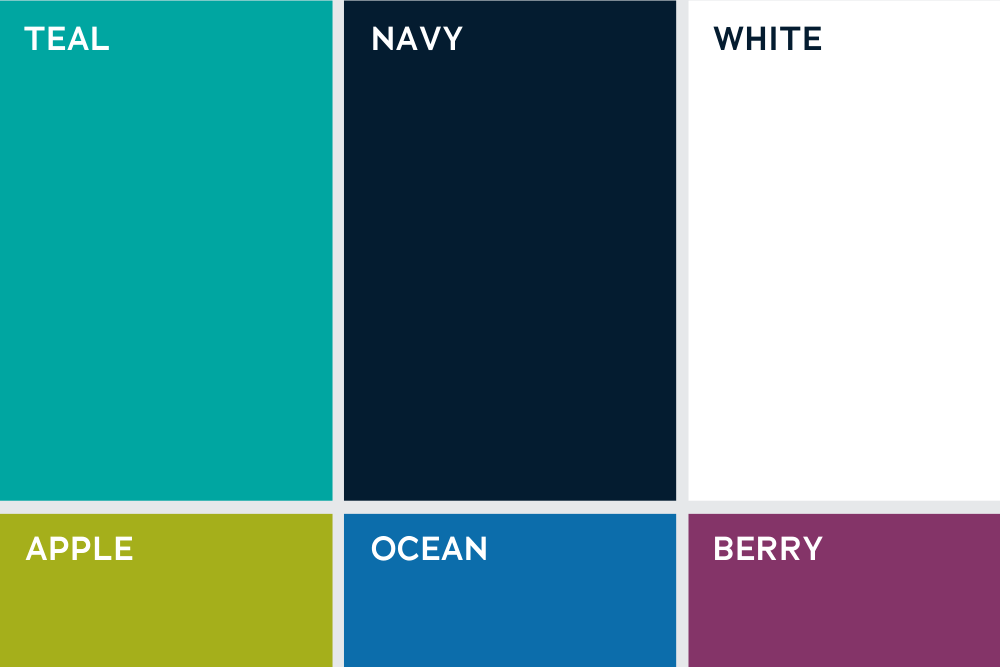 The Primary teal has historical brand equity for ACE. The original ACE teal inspired this updated hue, which has been brightened and saturated for modern-day tastes. The boldness of the color better represents our bold work while still acknowledging our core values.
Our Core Programs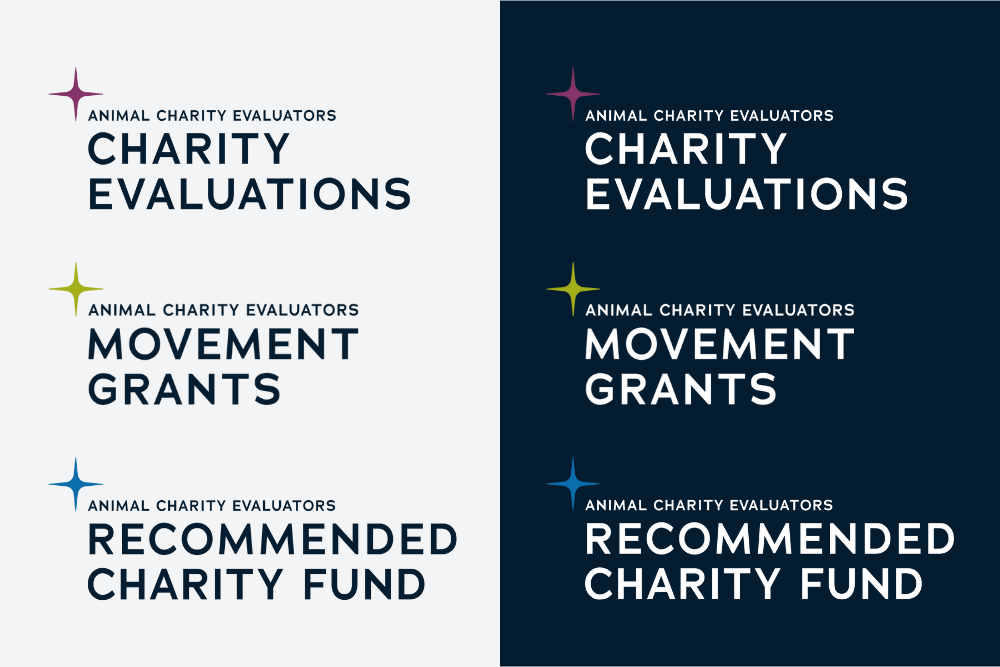 Our core programs are our Charity Evaluations, Movement Grants, and Recommended Charity Fund. These use the lodestar shape to tie into ACE's core branding. In this way, they are easily identified as connected to our logo but remain unique.
Each program is associated with one of the Secondary colors in the color palette.
Our Website and Digital Assets
Our new logo and visual identity are now reflected on all of our digital assets. Our website will continue to undergo an exciting transformation, so be sure to stay connected with us on social media (Facebook, Instagram, LinkedIn, Twitter, Threads) and our newsletter for the latest updates.
Acknowledgments
We extend our heartfelt gratitude to Kate Rodman and David van Beveren of Vegan Hacktivists. None of this would have been possible without their unwavering support, expertise, patience, and dedication.
We thank our peer organizations, stakeholders, board members, and community members for their feedback and insight throughout our rebranding process. Our team carefully considered all feedback at each stage of the process.
Lastly, it is undeniable that our team's hard work, honesty, passion, and commitment to excellence are what have propelled us to where we are today. We are thankful for everyone's contributions.
Embracing Change
As we embrace this exciting change, our focus remains the same: to find and promote the most effective ways to help animals. Our rebrand serves as a reminder of our commitment to growth, our guiding principles, our theory of change, and the milestones we intend to achieve by fulfilling our strategic goals.
Whether you have been with ACE from the beginning or learned about us along the way, we appreciate your support and trust. We look forward to this journey of growth ahead, together.