In January, thanks to generous donor support of ACE's Recommended Charity Fund, we were able to award $1,047,400 to our 2022 Top and Standout Charities. Those organizations have updated us on how they've used their grant to help animals, and we're excited to share their achievements.
By making a gift to our Recommended Charity Fund, you will support multiple effective charities working around the globe to reduce animal suffering. Much of the inspiring work outlined below would not be possible without the grants provided by this fund. Thank you!
Top Charity Updates
Faunalytics
$104,858 grant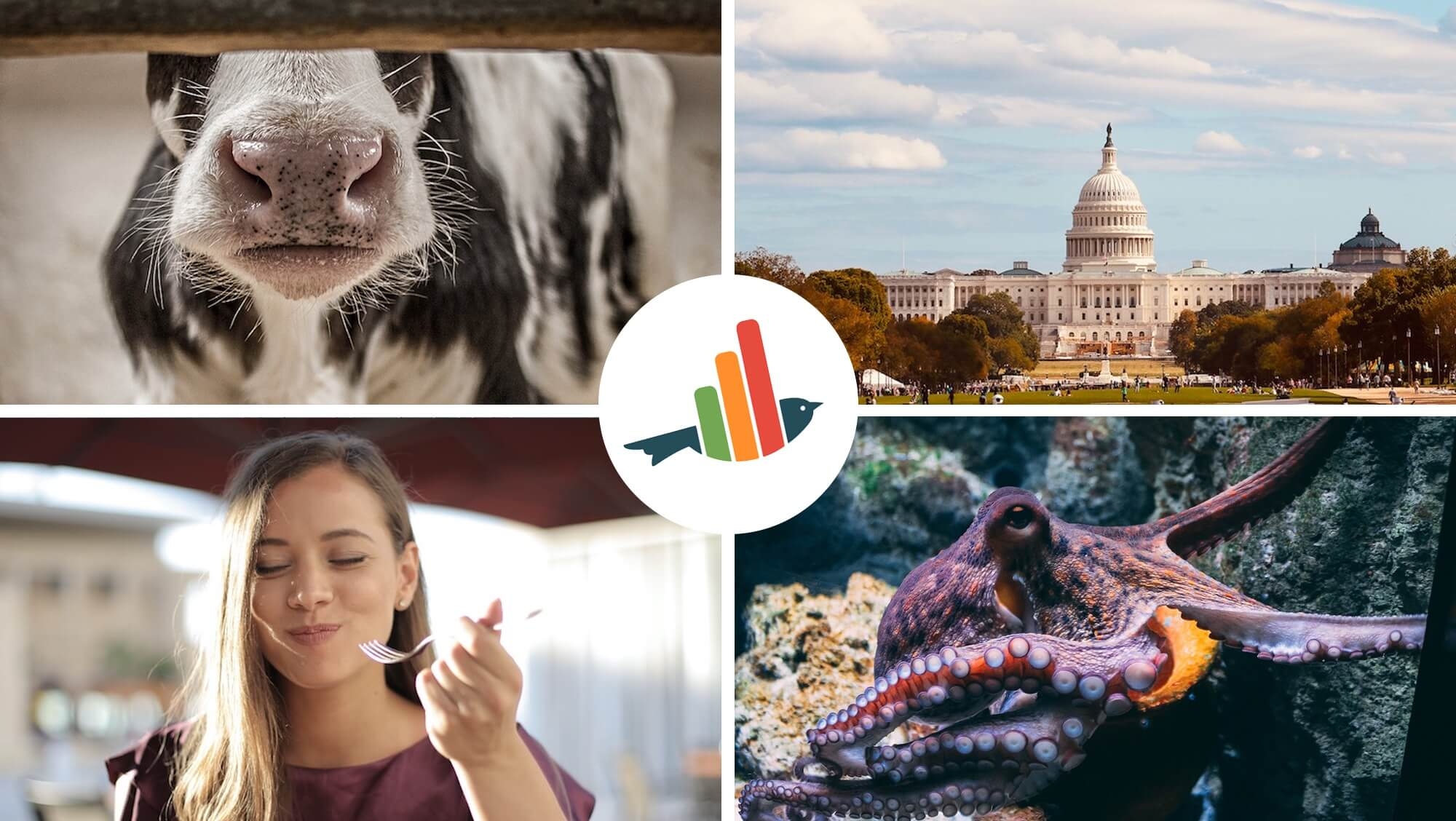 Faunalytics published six new original studies and analyses:

Reforming Animal Agriculture Subsidies: A Guide for Advocates
The Animal Agriculture Industry's Perspective On Advocates & Cage-Free Reforms
Bringing Back Former Vegans and Vegetarians: An Obstacle Analysis
Support For Farmed Animal Welfare Legislation In Ten Key U.S. States
Different Strokes For Different Folks: Comparing U.S. Groups' Openness to Pro-Animal Actions
Animal Agriculture Is The Missing Piece In Climate Change Media Coverage

They updated their Animal Product Impact Scales with new data to support impact measurement for institutional change.
Faunalytics' newest visual resource, Invertebrate Fundamentals, is a series of data-driven infographics exploring the lives of invertebrates, the importance of pollinators, the growing push to produce insects for food, and the case for their ethical consideration in animal advocacy.
They added over 100 new study summaries to their Research Library.
More than 50 advocates and organizations received one-on-one support from Faunalytics through their Office Hours.
Faunalytics' Research Ambassador project delivered research implementation presentations to 240 advocates across dozens of organizations.
In partnership with the Reducetarian Foundation, they welcomed a new fellow to help train and empower the next generation of advocates.
They've begun planning their second annual virtual research symposium, Fauna Connections, scheduled for September 14, 2023.
They recently conducted their annual Community Survey to learn how their work is being used by advocates and how they can improve to better support the movement.
The Good Food Institute
$104,858 grant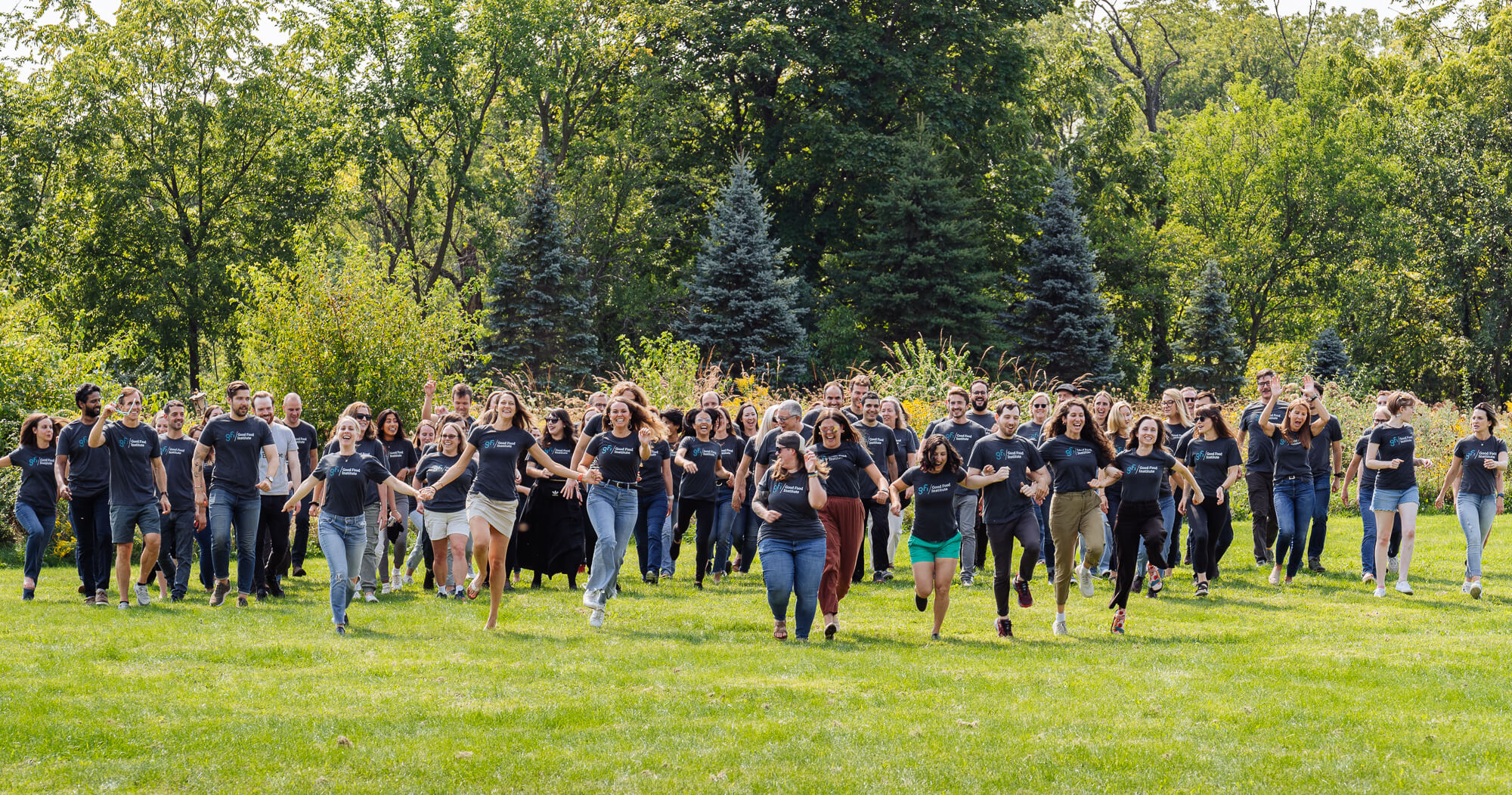 In May, the Good Food Institute (GFI) received what may be the two strongest validations of their theory of change to date:

First, the Center for Strategic & International Studies released an in-depth report on the potential of alternative proteins to improve global food security, food systems resilience, and global health, with an emphasis on benefits for national security and economic competitiveness.
Second, ClimateWorks Foundation and the Global Methane Hub released a Global Innovation Needs Assessment focused on methane mitigation, including the most promising agricultural methane mitigation interventions. GFI created a one-pager focused on the top findings on alternative proteins.

After months of work from GFI and their partners about the opportunities and challenges facing alternative proteins, the White House Office of Science and Technology Policy (OSTP) released a report titled Bold Goals for U.S. Biotechnology and Biomanufacturing, which paves the way for substantial future public support for the alternative protein sector across the U.S. Federal Government.
GFI published its 2022 State of Global Policy Report, which tracks the investment, support, and regulation of alternative proteins across the globe.
The Israel Institute of Technology announced $20 million to launch the world's first Sustainable Protein Research Center in partnership with GFI Israel. This is the first major research center grant that includes plant-based meat alongside cultivated meat. News of the announcement (and GFI's strategic partnership) was published in the Jerusalem Post and Ynet (Israel's leading news website).
In May, the GFI U.S. team met in Denver for a three-day retreat, replete with delicious vegan food, wonderful camaraderie, and lots of critical learning and planning for the year ahead!
The Humane League
$104,858 grant

The Humane League (THL) is moving toward their 2023 goal of sparing 6.7 million hens from battery cages. The corporate commitments THL has secured so far this year mean that 3.58 million hens will no longer be among the most intensively confined animals in the world!
Viking Cruises committed to removing battery cages throughout its global supply chain, thanks to pressure from emails, calls, and comments on the company's social media from THL staff and volunteers. Hershey's and TGI Friday's also shared positive updates. THL featured Hershey's in the 2023 Manufacturers Accountability Report, pushing them to fulfill their commitment early, with a combined effort from other global groups.
THL's Manufacturers Unmasked campaign targeted industry giants PepsiCo, Kellogg's, and Cerealto Siro—all now reporting progress toward eliminating battery cages.
Healthcare Services Group joined other leading food service companies to improve the lives of layer hens, broiler chickens, and mother pigs.
THL launched campaigns against Giant Eagle, Whataburger, and Flowers Foods for not following through on their promises to treat chickens better.
THL launched a campaign urging Jollibee Foods Corporation to make a global commitment to source 100% of their eggs from cage-free hens—representing approximately two million hens per year.
Blue Apron and Sun Basket published roadmaps to achieve all Better Chicken Commitment (BCC) components. Germany-headquartered Vapiano's also committed to higher welfare practices for chickens raised for meat across its entire European portfolio.
THL supported Animal Policy Alliance (APA) members for legislative wins preventing rabbit farming in Connecticut and banning crating pigs and baby cows in New Jersey.
The Supreme Court announced upholding California's Proposition 12, promising mother pigs, calves raised for veal, and egg-laying hens enough space to turn around. As an intervening party, THL defended Prop 12 at every level.
Wild Animal Initiative
$104,858 grant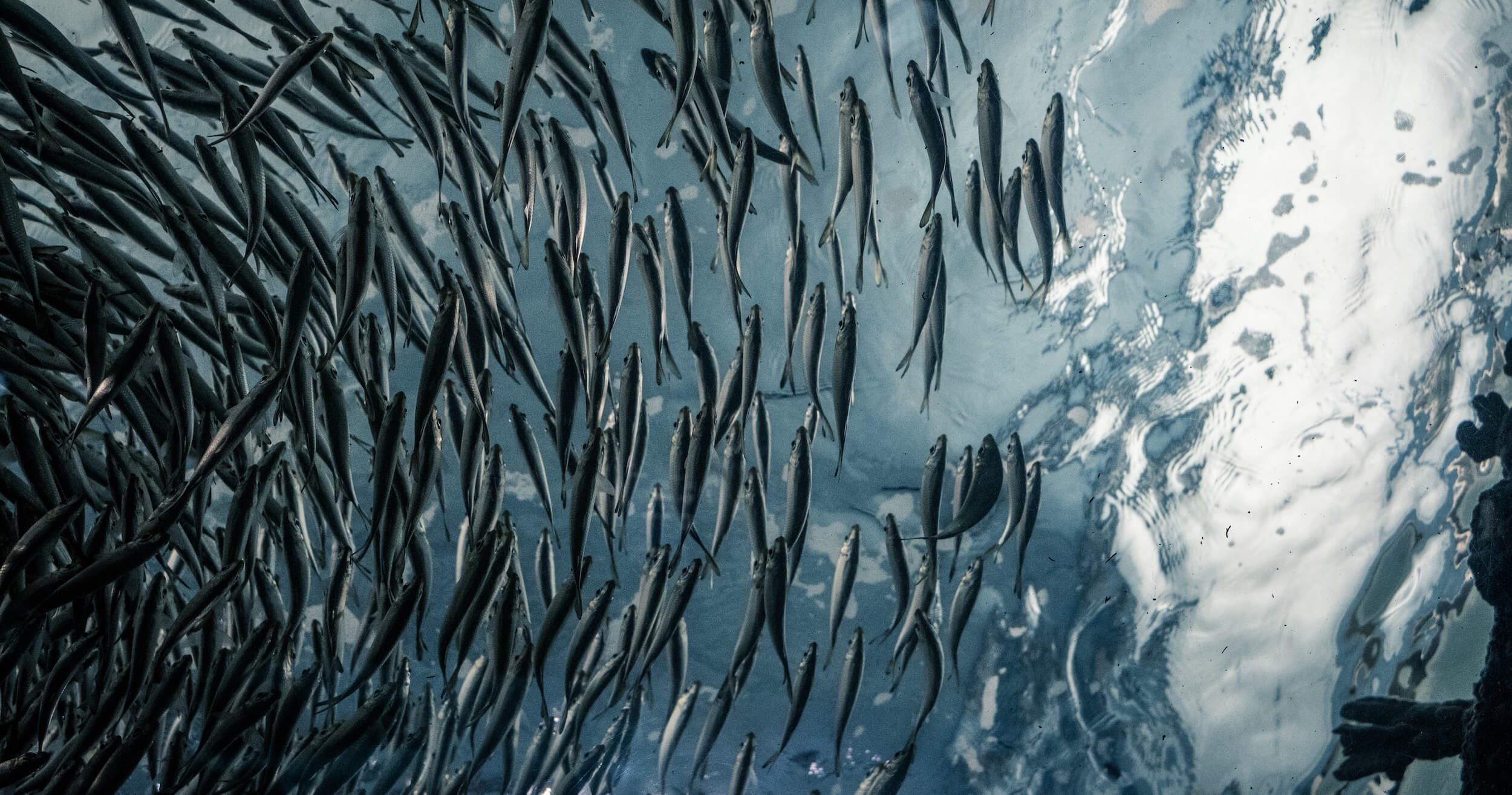 Standout Charity Updates
Çiftlik Hayvanlarını Koruma Derneği
$57,088 grant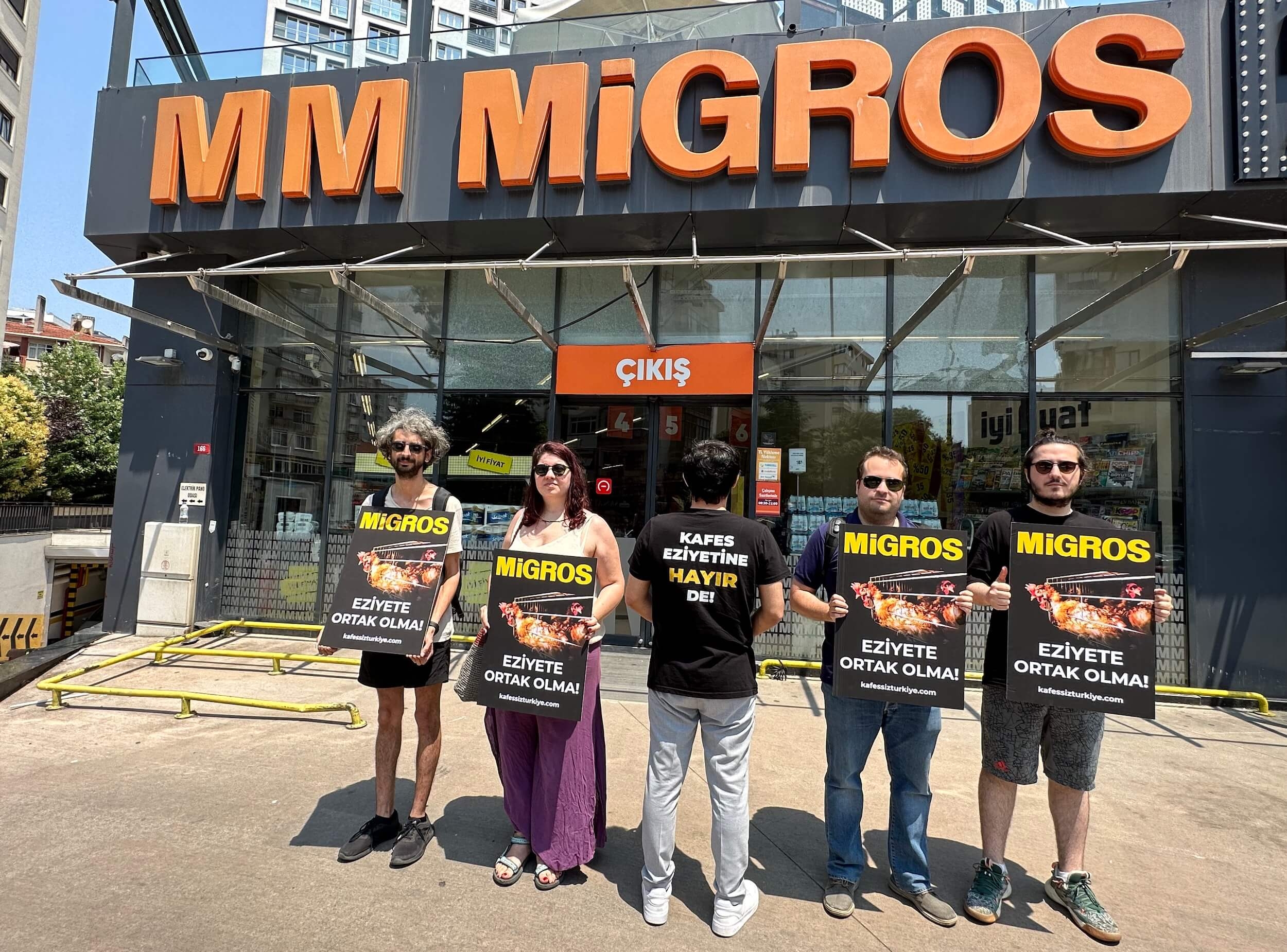 Four firms contacted by Çiftlik Hayvanlarını Koruma Derneği (ÇHKD) have made cage-free commitments. One of them is Macrocenter, a large retailer in Turkey. These commitments are estimated to impact 106,600 chickens.
ÇHKD's new campaign targeting Migros, one of the largest retailers in Turkey, mobilized volunteers and supporters to take action, with approximately 8,100 digital actions taken and 52,000 signatures gathered until June 2023. ÇHKD also organized two protests in front of retailer's branches.
ÇHKD is mentioned in or has been a guest in 13 publications/broadcasts, including one international podcast and three national newspapers.
Three out of four fish producers contacted by ÇHKD have agreed to initiate an engagement for a fish welfare commitment. Among them are the top two sea bass and sea bream producers in Turkey. The Future for Fish program also continues its regular meetings with colleagues from the U.K., France, Spain, and Italy to reshape the demand for exported farmed fish with better welfare standards.
The Future for Fish program launched its website.
ÇHKD organized two educational events: One was in collaboration with a youth organization, and the other was a stand-alone online event with an average of 110 attendees across three sessions. Participants were trained on the basics of chicken and fish welfare, as well as effective advocacy strategies.
ÇHKD hired a Project Specialist for the Future for Fish (Fish Welfare Program). The organization also continues its summer internship program with two interns.
Compassion in World Farming USA (Compassion USA)
$57,088 grant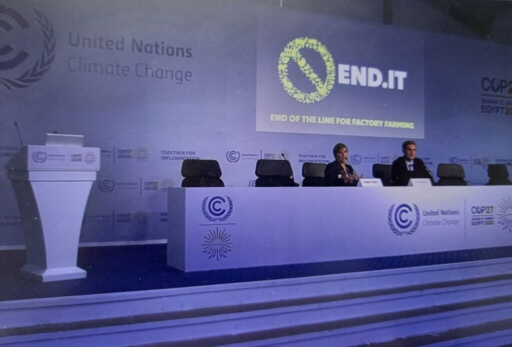 Dansk Vegetarisk Forening
$57,088 grant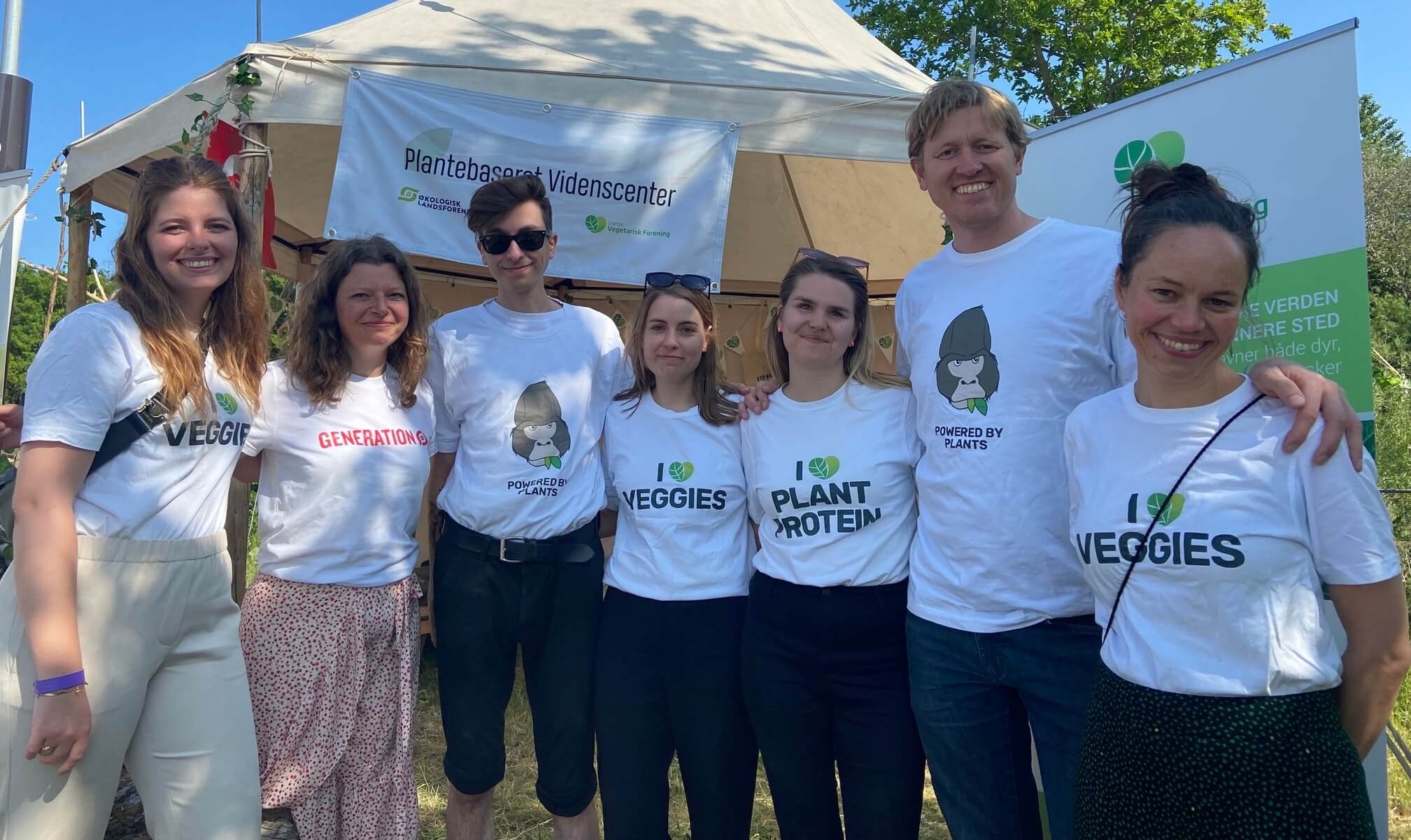 Dansk Vegetarisk Forening (DVF) hired a full-time fundraiser and has begun updating their website to make it more fundraising-friendly. They expect to complete these updates in August.
DVF has continued to work on three landmark lawsuits: a lawsuit against pork giant Danish Crown, which misled consumers by branding its pork as "climate-controlled"; a lawsuit against a hospital that failed to ensure proper food for a pregnant vegan woman; and a lawsuit against a municipality that made it impossible for vegan parents to have their child in kindergarten. The Danish Crown lawsuit will be heard in court in 2023 and the other two in 2024.
DVF's Center for a Plant-Based and Organic Future (in collaboration with Organic Denmark) has developed a relationship with several organizations working within the food system, preparing joint project proposals for funding. If granted, all of these proposals could have significant structural impacts. (The names of the organizations are currently confidential.)
DVF published a report analyzing the actions (or inactions) of Denmark's 27 largest banks in supporting the transition toward a plant-based food system. The report, which included 10 concrete recommendations for all banks, was featured in the country's primary financial newspaper, Børsen, and in a live interview with national broadcaster P1. Top managers from four banks participated in a public debate with DVF, and some banks have said that they will work on implementing some of DVF's recommendations.
DVF's new campaign Planterig 6 raises awareness about the relationship between plant-based diets, cardiovascular disease, and erectile function. The campaign reached more than one million people and was debated on live television (TV2 News), where a panel agreed that it was good to use humor and a positive angle as a way to reach new audiences.
DVF organized two conferences for health professionals, with 250 professionals attending.
Dharma Voices for Animals
$57,088 grant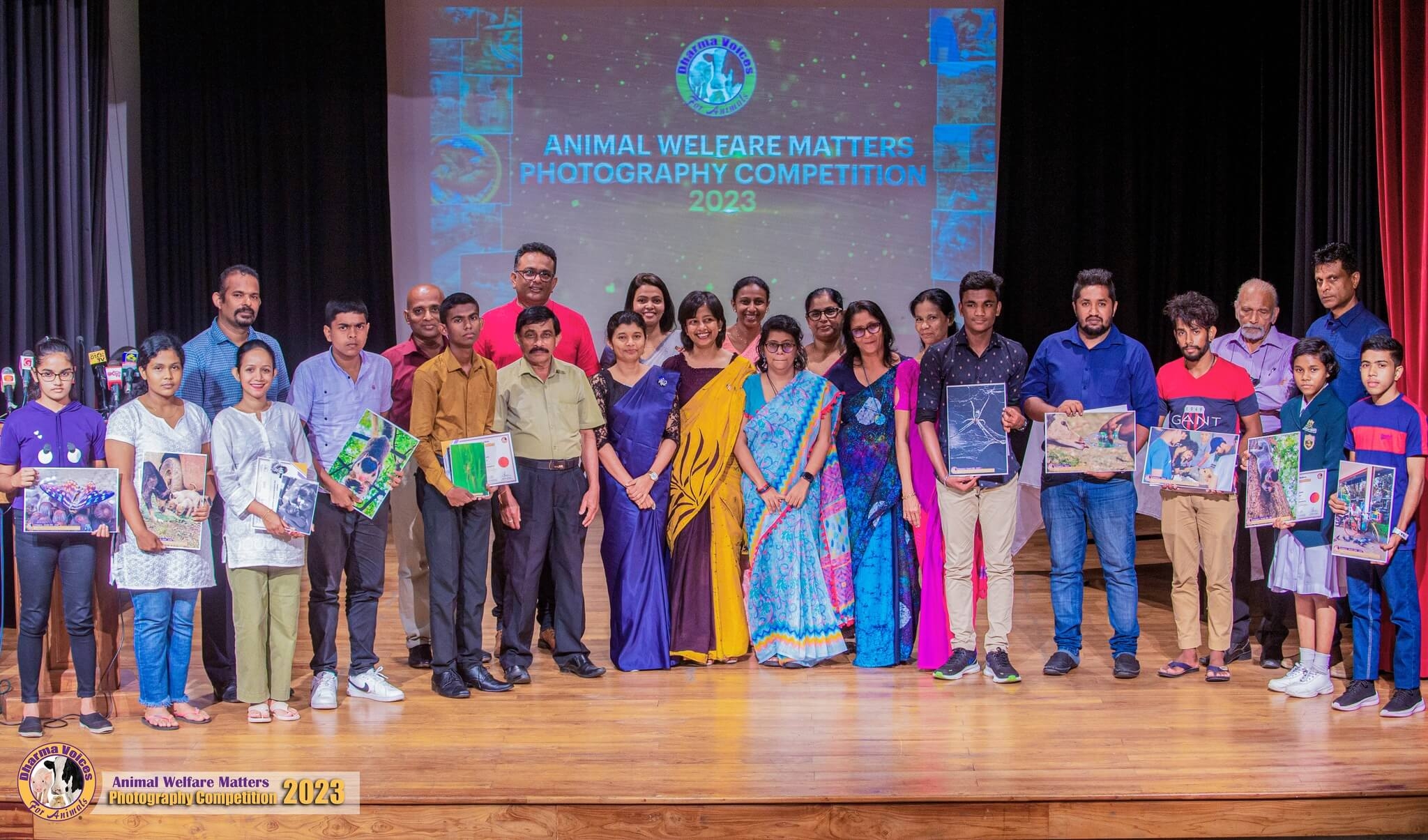 Dharma Voices for Animals (DVA) organized a leadership retreat for its board and U.S. staff (seven people) ahead of the 2023 Animal & Vegan Advocacy Summit, where they plan to meet with major and prospective funders and network with other animal advocates.
DVA's Sri Lanka Project gave over 100 in-person presentations during each of the first six months in 2023, with a total of approximately 40,000 attending.
DVA's Sri Lanka Project held a nationwide children's photography contest to raise awareness about the value of animals' lives. The contest received over 1,600 photos and culminated in an awards ceremony covered by multiple national press outlets.
DVA's U.S. Centers Project received dozens of strong endorsements from participating centers.
DVA's Thailand Project has doubled the number of in-person presentations given to Thai monks to help them transition to plant-based diets, with the expectation that 65 million Thai Buddhists will model their diet choices after the monks.
DVA's Vietnam Project expanded its vegan cooking classes at Buddhist temples.
In collaboration with Vive, a Vietnamese animal rights organization, DVA's Vietnam Project will sponsor a two-day VegFest in Ho Chi Minh City, where they will teach cooking and meditation to an estimated 20,000 attendees.
DVA provides three-hour mini-retreats on Sundays to support animal advocates in dealing with stress using mindfulness and meditation techniques.
Fish Welfare Initiative
$57,088 grant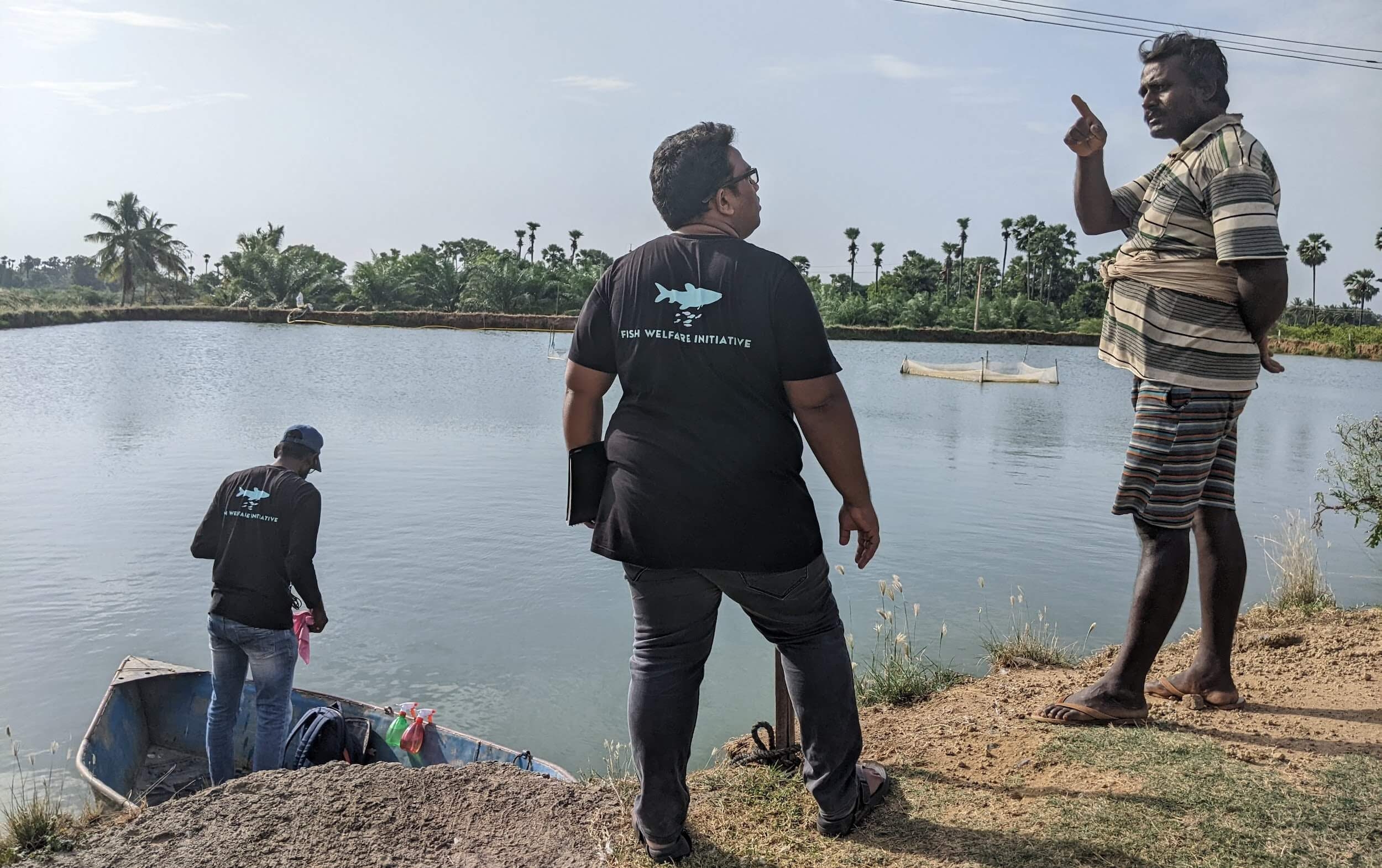 Material Innovation Initiative
$57,088 grant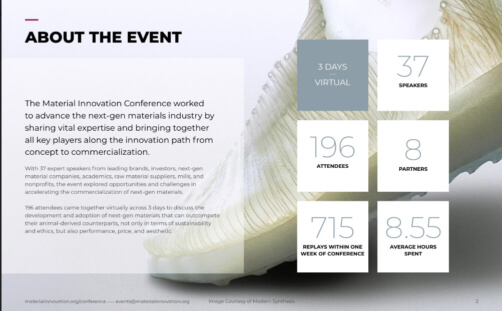 Material Innovation Initiative (MII) held their flagship event, the Material Innovation Conference, in June 2023. More than 100 retailers, brands, entrepreneurs, scientists, investors, and other stakeholders from around the world joined the virtual event. Sessions addressed topics such as scaling next-gen material technologies, bringing next-gen materials to market, and next-gen material end-of-life considerations.
In February, MII published the 2022 State of the Industry Report: Next-Gen Materials and led a webinar to share their findings with our stakeholders. The report and webinar highlight the investments, innovation, and industry partnerships that impacted the industry in 2022. MII was encouraged that next-gen materials companies raised at least $456,750,000 from 28 publicly disclosed deals in 2022.
In collaboration with North Mountain Consulting Group, MII published the U.S. Consumer Research: Next-Gen Materials Report. The report found that a majority of participants were open to purchasing next-gen materials, among other exciting findings.
MII helped increase investment into the next-gen materials industry by: adding next-gen material companies' fundraising information into their fundraising database; sending next-gen material deal updates to around 80 investors each month, with an open rate of 94%; joining GlassWall Syndicate's Emerging Growth Consortium, which supports investors that are considering Series B or C investments in next-gen material companies; and educating investors about next-gen material science, technologies, opportunities, and industry challenges.
MII was featured in top industry publications including Women's Wear Daily, British Vogue, and Sourcing Journal.
Mercy For Animals
$57,088 grant
Mercy For Animals (MFA) played a key role in several historic victories for farmed animals. They celebrated the upholding of California's Proposition 12 and legal progress toward a ban on live animal export in Brazil, and they also influenced governmental oversight of pig farms in Jharkhand, India.
MFA's investigations team has been hard at work: they captured undercover video that revealed the brutal lives of hens at a Mexican egg farm; carried out an eye-opening investigation into Brazilian chicken farms; and investigated one of the largest dairy farms in Brazil. Their documentary on industrial aquaculture shed light on the suffering of farmed fish in industrial aquaculture.
MFA held food companies accountable for their commitments to animal welfare, including highlighting Kroger's broken promise to create a 100% cage-free egg supply chain by 2025. After discussions with MFA, several companies published a roadmap to meeting their Better Chicken Commitment (BCC) goals or began reporting progress. These companies include Jack in the Box, Blue Apron, Sweet Green, Sprouts, and PCC Community Markets.
Requests from MFA led Pret A Manger to publish a roadmap for how the company will fulfill its 2016 commitment to BCC standards over the next few years. The plan will ensure chickens raised and killed in Pret's supply chain suffer less.
On March 12, 2023, 140 global staff members and Mexico-based outreach volunteers led a mass performance at Mexico City's Monumento a la Revolución in which spectators joined the activists in chanting for compassion. It was MFA's largest-ever demonstration.
New Harvest
$57,088 grant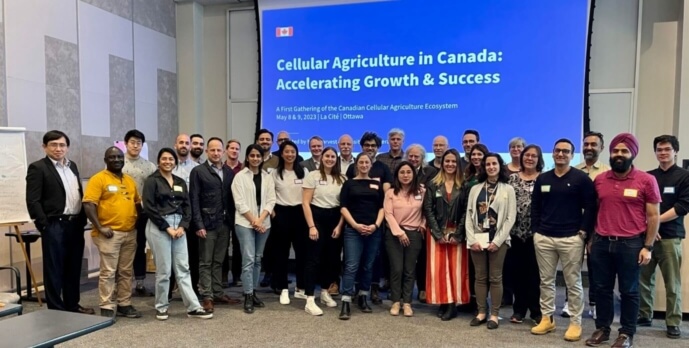 Sinergia Animal
$57,088 grant
Sinergia Animal helped secure nine cage-free egg commitments from major food companies in Asia and Latin America.
In Brazil, Sinergia Animal led efforts that resulted in two major companies—Habib's, Brazil's fifth-largest fast food chain, and Día, the country's fifteenth-largest retailer—making commitments to ban the continuous use of gestation crates and mutilation practices.
Sinergia Animal launched the second edition of Banks for Animals. This project ranks private banks and investors according to their policies regarding credit and investments that don't comply with basic animal welfare requirements. Five new institutions were added to the ranking, and 13 commercial institutions improved their policies since the previous edition.
Eight new institutions committed to implementing Sinergia Animal's Nourishing Tomorrow (NT) program, potentially serving 1.1 million plant-based meals per year. NT works with private and public institutions to help them replace animal products with plant-based alternatives in at least 20% of the meals they serve. Sinergia also provided training and advice to 13 previously committed institutions to implement the program in the first six months of 2023.
Sinergia Animal conducted the second edition of its Latin American Workshop on Animal Welfare. The event gathered leading specialists from Latin America and the U.S. More than 1,300 academics, veterinarians, and animal scientists joined the event, and many expressed an interest in working on academic studies related to animal welfare, public health, or the production of cage-free systems.
Sinergia Animal released two investigations in Brazil, both showing the cruel reality of dairy farms in the supply chains of two of the largest dairy processors in the country: Danone and Alvoar Lacteos. The investigations exposed controversial practices against animals, such as the confinement of calves in veal crates and the potentially illegal transportation and slaughter of newborn calves.
xiaobuVEGAN
$57,088 grant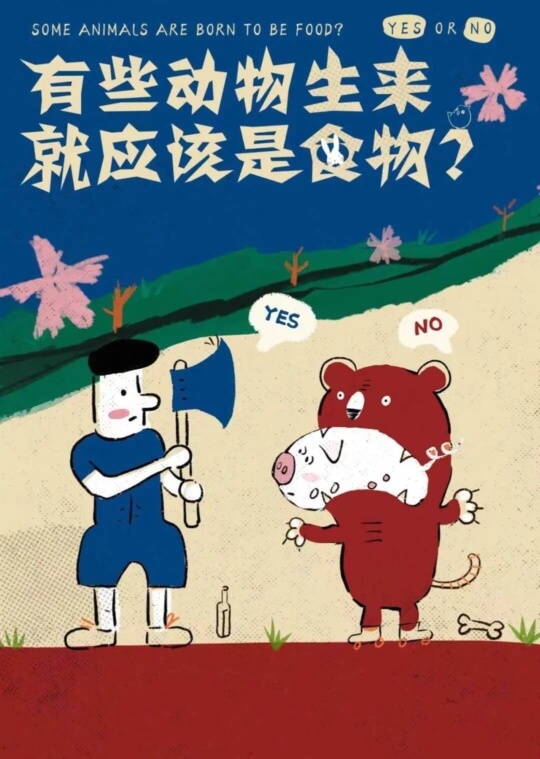 xiaobuVEGAN marketed a veganism awareness project that amassed one million views in three months. The XBVegan debate society brings people with opposing views about animal sentience, veganism, and alternative protein technology together for a live debate. The debate is recorded and released to the public to raise awareness about animal welfare. The next debate is currently in production.
In collaboration with a vegan meal plan brand in Shanghai, xiaobuVEGAN contacted and consulted with chain restaurants to add more vegan options. So far, more than 50 restaurants have successfully signed up for the program.
xiaobuVEGAN founder, Monica Wang, was selected and awarded a scholarship to participate in the Asia for Animals (AfA) 2023 conference in Malaysia. They arelooking forward to sharing their work with attendees and seeking more opportunities to help animals.
xiaobuVEGAN participated in multiple events, worked with vegan food brands, and provided vegan lunches to hundreds of people.
More 5,000 people signed up for xiaobuVEGAN's app, which now features 300+ vegan products.
If you are inspired by these achievements, please donate to support ACE's Recommended Charity Fund. Your gift today will help reduce future animal suffering. Thank you!